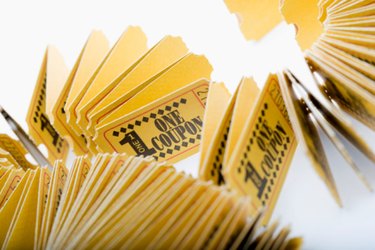 A Chinese Auction is a fun twist on the typical fundraising event. In a standard raffle auction, there are several prizes and to win each prize a raffle ticket is drawn out of a universal "hat." A Chinese Auction is different because each object has its own separate drawing. This allows the raffle participants to put their tickets toward winning specific objects, rather than trying to win a random prize. Making your own Chinese Auction tickets can help you save money and still have a great fundraiser.
Using a Microsoft Template
Step 1
Open Microsoft Word. Click "File" in the upper left-hand corner and a drop-down menu will appear. Click "New," then choose "Templates," then "Templates on the Computer."
Step 2
Browse for the "Tickets Template." If your version of Microsoft Word does not have this template, click "Templates Online." You will be brought to an Internet site where you can choose from multiple ticket templates to download. Once you select a template and download it, it should open in Microsoft Word automatically.
Step 3
Customize your tickets by editing the blank fields in the template to personalize them for your Chinese Auction. Do this by clicking on the text boxes and typing inside them. It is a good idea to include specifics about your event, such as the name and date. This will help deter cheating if anyone tries to bring their own tickets from another source to win more prizes.
Using an Online Template
Step 1
Check your computer to be sure you have the Internet Explorer web browser. It comes standard on most computers, but if you do not have it, it can be downloaded easily online. Using Internet Explorer, go to the Raffleprinter website. Download their free ticket designer software.
Step 2
Open the "Designer" window, and click on "Ticket." This is where you can enter your ticket information to personalize the tickets for your event.
Step 3
Click on "Cover." This area allows you to design the front of your ticket. To add an image, right click on the ticket where you would like your image to appear and select "Add Image." Select the desired image from your computer, upload it and click and drag to position it on the ticket.
Step 4
Click on the "From Number" menu, found at the bottom of the screen and choose the starting number for your tickets. Choose "1" for your first book of tickets. Then click "Books" and a drop-down menu will appear. Choose the number of books you want to print and the number of tickets per book.
Step 5
Print your tickets by clicking "Printing." Be sure to check the box next to "Print to File," then click "Ok." This creates a print file. Then, click "Open Print File," right click on the new window, and click "Print."