Things You'll Need
Cream tunic

Thick black belt

Lightsaber handle prop

Cream pants

Beige shoes

Fabric bandage

Beige cargo pants

Thin brown thigh holster

High brown boots

Beige collared shirt

Gun holster

Utility pouches for belt

Black pants

High black leather boots

Black collared shirt

Black glove for right hand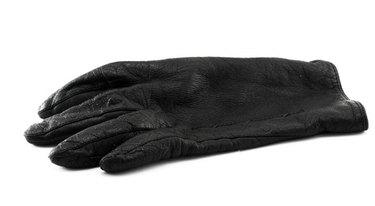 Luke Skywalker, the protagonist of the original three "Star Wars" films, is an iconic science-fiction hero. After meeting old Jedi masters Obi-Wan Kenobi and Yoda, Luke himself trains to become a Jedi. With his knowledge of the Force and his skill with a lightsaber, Luke is able to finally confront the villainous Darth Vader and Emperor Palpatine, who have ruled the galaxy with an iron fist. Making a Luke Skywalker costume is simple, and no matter which part of his life you wish to represent, you can do so with clothing found around the house.
"A New Hope"
Step 1
Dress in cream-colored pants in a lightweight fabric.
Step 2
Wear a baggy, cream-colored tunic with no undershirt--on the desert planet of Tatooine, Luke dressed for breathable comfort. The tunic should fall to about the mid-thigh area.
Step 3
Strap a thick black belt around your waist and clip a lightsaber handle prop to it.
Step 4
Slip on a pair of beige shoes.
Step 5
Wrap a fabric support bandage around each leg, starting at the top of the shoe and going up to just below the knee. This mimics the wrapped, layered appearance of Luke's boots.
"The Empire Strikes Back"
Step 1
Dress in beige cargo pants and a pair of high, brown fabric boots.
Step 2
Strap a thigh holster around your right thigh.
Step 3
Wear a thick brown belt around your waist. Attach a gun holster and several utility pouches.
Step 4
Find and wear a collared, beige shirt. It should feature two cargo pockets on the breasts and small cargo pockets on each bicep. Tuck it into your pants.
Step 5
Tuck your right hand into the sleeve of the shirt to mimic Luke's appearance after Darth Vader cuts off his hand at the movie's climax.
"Return of the Jedi"
Step 1
Wear a form-fitting pair of black pants with high, black leather boots.
Step 2
Dress in an equally form-fitting black dress shirt. Tuck it in and strap on a black belt.
Step 3
Cover your right hand in a black leather glove. After Luke's prosthetic hand was damaged by a blaster bolt, he covered it with a black glove.
Tip
Wear your hair shaggy, as is Luke Skywalker's personal style. For a "Return of the Jedi" costume, it can be neater.
Dirty your "Empire Strikes Back" outfit to accurately represent Luke after his battle with Darth Vader.