Things You'll Need
White t-shirts

Scissors

Pencil

3 yards of 3-inch long fringe

Hot glue gun

Cardboard

Paint markers

White duct tape

Blue duct tape

White pants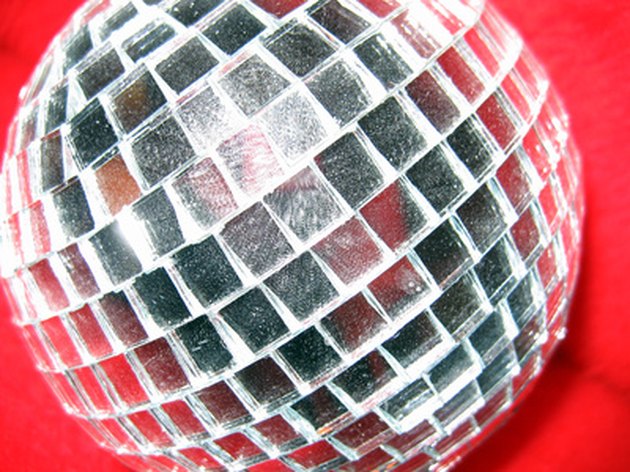 Abba was a music supergroup that reached its zenith in the 1970s. Abba's hit songs like "Dancin' Queen" and "Winner Takes It All" played in discos and bedrooms all over the world. If you and a few 70s-loving friends need a costume, you could not pick a better one. To dress as the entire group you need two men and two women to participate, but you can adjust the look for a smaller group. With some thrift store finds and inexpensive craft supplies, you can create a freewheeling costume you will love wearing.
Step 1
Buy super large t-shirts to use as dresses or larger over shirts. You need one for each person. They should be white and stain-free.
Step 2
Cut three-inch slits up the left and right sides of the shirts, starting at the bottom hem.
Step 3
Lay the shirt on a flat surface. Use a pencil to draw a design on the shirt. The design should display wavy lines that sweep from the left shoulder to the waist and from the waist to the left hip. Make the lines two to three inches wide.
Step 4
Glue royal blue fringe on the bottom hem and the sleeve hems of the shirt.
Step 5
Place a large piece of cardboard inside the shirt to separate the front and back. This will keep your paint from seeping through.
Step 6
Color in the lines you drew with the pencil using paint markers. Vary the colors so you have a psychedelic look.
Step 7
Cover your boots with white duct tape if you cannot find white boots.
Step 8
Wrap the top edges of the boots with blue duct tape for a nice-looking trim.
Step 9
Add fringe to the bottom legs of white pants about four inches from the bottom. Layer the fringe, placing a second layer of fringe over the first for a shaggier look.
Step 10
Put the shirt/dress on. Use blue duct tape to make a belt around your waist.
Tip
Men should wear the decorated white shirt with the white pants. Women should wear the white shirt as a dress with the boots.