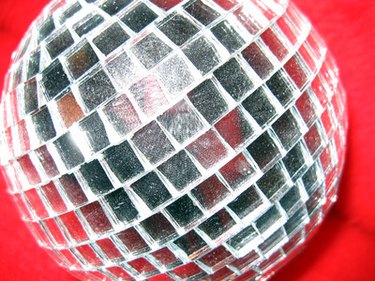 It has been 45 years since the Swedish music group ABBA released its first album "Arrival," and its outfits are almost as iconic as its beloved music. While the band members' songs never seem to go out of style, their clothes and hairstyles have changed over the years. To be recognizable, a DIY ABBA costume should be styled after its popular phase, back in the 1970s. And since this music group has four members, you will need to get three friends to join in on any kind of ABBA outfits.
ABBA is named after its four original members: Anni-Frid Lyngstad, Benny Andersson, Björn Ulvaeus and Agnetha Fältskog; the group name is an acronym made up of the first letters of their first names. The most iconic ABBA outfits are from the disco era, back in the 1970s. Think a lot of white and gold clothing, big hair, bellbottoms, flowy sleeves and anything shiny.
Though ABBA's outfits have become more mainstream in the past decades, when they first started out, their style was outrageous. There was actually a method to this madness, though, and it related to taxes. Back in the day, Sweden offered special tax discounts for clothing that was bought exclusively for work use. ABBA's outfits were designed to be used only for performing, in order to take advantage of that tax loophole.
Sweden's Tax Agency mandated that work clothing had to have company names or logos, be purely used as stage clothes or fantasy clothes or have attributes that made them distinctive from normal clothing. ABBA used this loophole to save money on their stage clothes, giving them a good deal of freedom to have fun with their outfits.
You can start by thinking about classic ABBA outfits. In their heyday, the two men had medium dark brown hair, but one always had a moustache and beard. When it came to the ladies, Anni had red hair, and Agnetha's was light blond and feathered down her cheeks.
All of the group members' hair was worn straight, with the ladies' styles longer than their male counterparts. None of them wore too much makeup, but you can play around with that a little bit.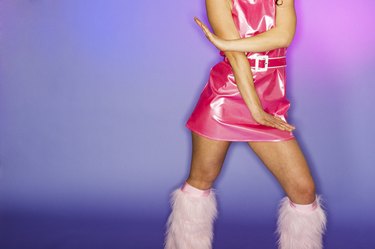 In a classic photo, both Anni and Agnetha are wearing oversized short-sleeved t-shirts imprinted with cat pictures. Those cat shirts may well be the most recognizable things the stars wore, and the shirts are shown in many of the group's older photos.
These shirts are cinched in with white sashes, but you could also use silver or gold sashes or belts. In the photo, the singers are also wearing matching headbands atop their flowing tresses. Anni and Agnetha also wore white Go-Go boots for most of their public appearances, but if you cannot find any, look for white high-heeled platform shoes and pair them with white knee-high stockings.
Benny tended to have a beard, and his stereotypical outfit featured an all-white, three-piece suit with some decorations on the lapels, plus white platform shoes. Björn was typically depicted as less conservative, with a cropped, open and sleeveless white vest, matching tight white pants, a sash for a belt and the requisite white platform shoes. You can also use white overalls, capes, top hats and faux fur for an ABBA costume. You do not have to stick with all-white clothing, but be sure to avoid anything neutral or bland, as this would not fit the ABBA aesthetic.