Things You'll Need
2 flat, twin-size sheets

Fabric marker

Sewing machine

Package of safety pins

Scissors

Two 9-inch pieces of elastic

Pair of white boots

White shirt with mock turtle collar

Gold chain belt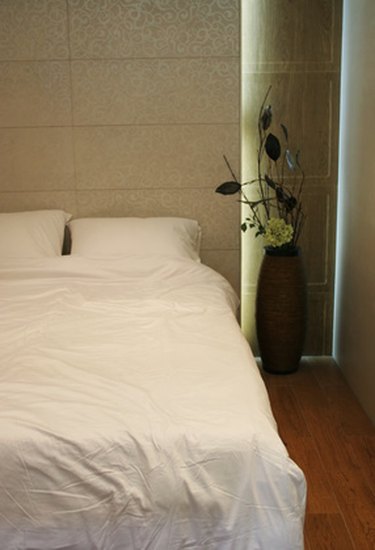 Princess Leia Organa, one of the main protagonists of the original "Star Wars" films, has become a symbol of feminine strength and power. She has been copied and emulated by girls for more than 30 years and remains a popular subject for Halloween costumes. Most remember her as they first saw her: in the long white robe and honey bun hairdo of the first movie. The robe can be easily made with a couple of flat, twin-size sheets and minimal sewing skills.
Step 1
Sew the two sheets together along the narrow edge. Leave a 12-inch gap in the center for your head.
Step 2
Pull the sheets over your head so that one sheet is behind you and the other is in front.
Step 3
Pin the sheets together at the wrists, under the arms, at the waist and at the hem line. You will either need a model or someone to pin it for you. Be generous; the robe should fit rather loosely. And the sleeves should be wider at the wrist than under the arms.
Step 4
Pull the sheets off over your head and lay flat. Draw a line from the wrist pin to under the arm pin to the waist pin to the hem pin. This is your sew line. Draw another line about 1 inch away from this line. This is your cut line. Repeat with the other side. You will now have a drawing of your robe on the top sheet
Step 5
Cut along the cut line through both sheets. Sew the two sheets together along the sew line.
Step 6
Turn the robe inside out. Cut and hem to the length you want.
Step 7
Stretch and pin the pieces of elastic to the inside to each sleeve. Sew them on.
Step 8
Wear the costume with a high-neck white top, white boots and a chain belt.