Things You'll Need
Cardboard boxes

Ruler

Fabric

Scissors

Decoupage glue

Paintbrush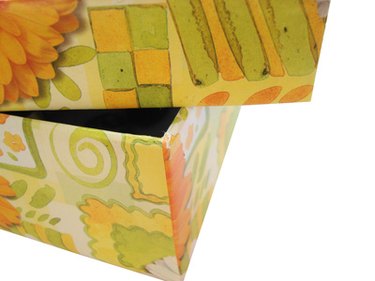 The possibilities are endless when you glue fabric to cardboard. Whether you want to simply cover tissue boxes with fabric and use them for storage of small toys or you want to cover cardboard boxes to set on a shelf, it's an easy project that can dress up a room. Use leftover fabric from sewing projects or buy remnants that you like. The materials needed are inexpensive, but the results can look rich.
Step 1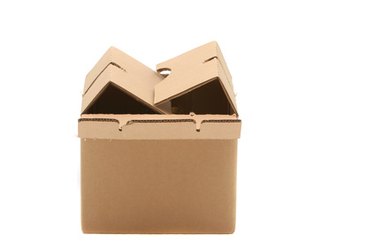 Select sturdy cardboard boxes that will hold up for your purpose. You need a good box if you're going to spend the time to glue fabric to it. Wipe off any dirt from the cardboard.
Step 2
Trim any parts of the box that are not needed. If the cardboard box has top flaps that you don't want, now is the time to cut them off. Use scissors and clean up the edges so the box has neat, straight lines.
Step 3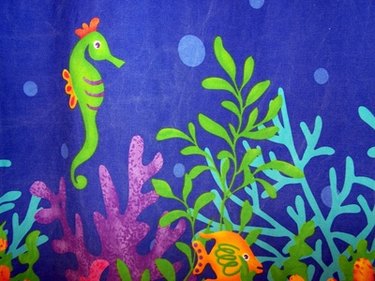 Measure one side of the box. Cut a piece of fabric that size to fit the box with an extra 1 inch of fabric to overlap the top of the box.
Step 4
Apply decoupage glue to the front of the box. Carefully place the fabric on the box front and work from the middle out to the edges releasing any air bubbles along the way. Fold the extra fabric over the top of the box to give it a clean edge.
Step 5
Apply decoupage glue over top of the fabric and along all of the edges to seal the edges to the cardboard. Be sure to wash the paintbrush thoroughly after use.
Step 6
Measure the other sides of the box and cut a piece of fabric to fit each side. You don't have to use all the same fabric design. Mix up the fabric for a fun look. Apply the fabric using decoupage glue.
Tip
Mix up the fabric for a more whimsical look, or use matching patterns and colors for a more traditional look.