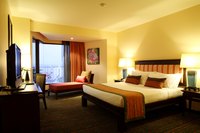 Like a table runner in your dining room, a bed runner adds color and texture. Usually 18 to 24 inches wide, a runner generally rests along the foot of the bed, although you can also position it down the center, from head to foot.
Things You'll Need
Tape measure
Fabric
Fusible interfacing
Dressmaker's pins
Sewing machine
Iron
Quilt batting (optional)
Basic, Simple Runner
Measure the width of your bed. Add 26 inches.
Fold the fabric in half, selvage edges and right sides together.
Mark a rectangle measuring 1 inch wider than your desired finished width by the width measurement you made. For example, if your bed is 48 inches wide, and you want a runner that is 18 inches wide, you would mark a 74-inch (48 inches + 26 inches) by 19-inch rectangle.
Cut on your marks to make two matching strips.
Cut one matching piece of fusible interfacing.
Iron the interfacing to the wrong side of one of your fabric strips.
Pin the two long sides and one end together, right sides facing.
Stitch the three pinned sides, using a 1/2-inch seam allowance.
Turn the runner right side out.
Slip-stitch the open end closed.
Top-stitch 1/4 inch from the edges, all the way around the runner.
Padded Bed-Top Runner
Cut two fabrics strips with a length equal to the width of your bed plus 26 inches. Make the strip 1 inch wider than the desired finished width.
Measure and cut a matching piece of batting.
Pin the batting to the back of one of the fabric strips.
Position the other fabric strip on the front side of the first strip and pin them together.
Stitch around the two long sides and one end, using 1/2-inch seam allowances.
Trim the seams to 1/4 inch.
Turn the runner right side out.
Top-stitch the runner with your favorite quilting design or top-stitch 1/2-inch from each edge.