Things You'll Need
Pool vacuum

Scrub brush

Pool filter

Pump

Telescoping head

Vacuum skimmer attachment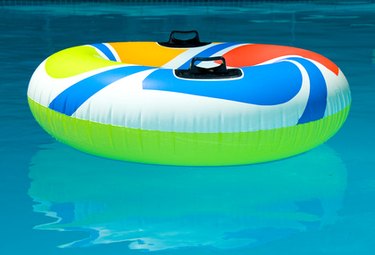 In-ground pools are not the only pools that require the use of sand filters or pumps. Sometimes even above ground pools use these filtration styles to keep the pool water sparkling. However, with the use of a sand filter, sand particles can end up on the bottom of the above ground pool surface. The best way to remove these sand particles is with the use of a pool vacuum. Automatic and manual vacuums can both be used, but a manual vacuum will yield results that are more precise.
Step 1
Use the scrubbing brush to brush the bottom of the pool floor and the pool walls to loosen all sand particles. Allow the water to sit undisturbed for 24 hours to allow the sand to settle to the bottom of the pool.
Step 2
Attach the telescoping head to the vacuuming pole. Attach the vacuum tube to the telescoping head. Slip the other end of the vacuum tube through the return valve inside the pool pump or filter leading to the skimmer basket. Place the skim vacuum head over the vacuum hose inside the filter and place over the skimmer basket.
Step 3
Place the vacuum inside the pool. Slowly vacuum the floor of the pool, taking care not to disturb the water enough to cause the sand particles to float in the water again. Vacuum across the entire bottom of the pool.
Step 4
Remove the vacuum from the water. Take the skimmer attachment away from the pool skimmer. Empty the skimmer of sand and any other debris that the vacuum pulled up.
Step 5
Allow the water to sit for another 2 to 3 hours. Repeat the vacuuming process. Check the skimmer basket to see if any sand particles were brought inside the filter. Continue to allow the sand to settle for 2 to 3 hours and then vacuuming it up until the skimmer basket remains completely clean after vacuuming the pool floor.
Tip
Try to backwash the sand filter as little as possible in above ground pools. Frequent backwashing places tiny sand particles into the pool water, causing the need for frequent vacuuming.
If you do not use a sand filter, the sand may be caused by a nearby sand source, such as a play sand pit. Do not allow children or pets to use the pool immediately after playing in the sand to reduce the amount of sand particles that end up inside the pool floor.