Things You'll Need
Baracuda

Hose pieces included with the cleaner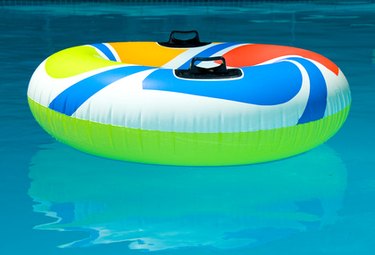 Zodiac Pool Care offers a wide range of automatic pool cleaners. One of the most popular among its line of cleaners is the Baracuda automatic cleaner. The Baracuda is designed to be easy to use for pool owners and leave the pool sparkling clean. The Baracuda is powered by the pools filtration system and pump, the pump creates the pressure that circulates the Baracuda around the pool floor, and while the filtration system cleans the water of the dirt the cleaner picks up. To ensure the cleaner works properly it's important to know how to correctly install and setup with cleaner.
Step 1
Empty the skimmer and pump strainer baskets of any debris to ensure the cleaner works properly. Clean the pool filter before installing the cleaner. Twist the pool return jet, located on the side wall of the pool near the filter, until it's pointed downward. The pressure from the return jet is what moves the Baracuda around the pool floor.
Step 2
Attach the Baracuda cleaner pool hoses together by piecing together each female end to the male end. Continue this process until all hoses are connected to each other.
Step 3
Disconnect power to the filtration system by turning the pool pump off. Connect the Baracuda cleaner head to the open female hose link. Restore power to the pool filtration system by turning the pool pump back on. The open male end should be held up to the return valve jet. This will fill the cleaner hose with water, removing any air bubbles. Be sure to keep the Baracuda head and end of the hose under the water at all times to avoid creating air pockets.
Step 4
While holding the male end under water, bring the hose through the pool skimmer and insert the hose into the bottom of the skimmer. Let the Baracuda head sink to the bottom of the pool; the cleaner will now begin working and circulating around the bottom of the pool. Allow the cleaner to work until the pool is cleaned. Once cleaned, turn the filtration system off and remove the cleaner from the pool.