Things You'll Need
Quilt batting

Medical tape

Nude-colored knee highs

Scissors

Permanent marker

Cotton batting

White sailor's shirt

Pea coat

Sailor pants

Sailor hat

Can of spinach

Hat

White ruffle

Red long-sleeved shirt

Sewing machine

Yellow ribbon

White knee socks

Brown calf-high boots

Hair gel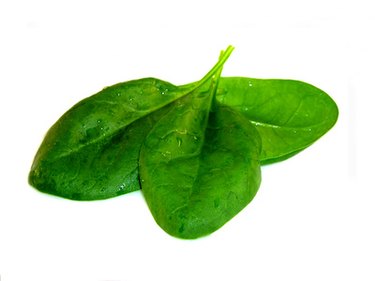 Choosing the right costume for a Halloween or a costume party can be overwhelming because of the number of options available. You could spend hours looking through the costumes available to purchase or rent at your local costume shop, only to end up spending a lot of money. The other option is to save money by making your own costumes. If you are planning on going as a couple and want to match, Popeye and Olive Oyl are recognizable costumes that are inexpensive and require little time to create.
Popeye
Step 1
Create Popeye's arms. Cut lengths of quilt batting the length of your arms. Secure the quilt batting at the wrist and around the upper arm using medical tape. Use medical tape to seal the open seam in the quilt batting. Cut the toes off a pair of nude-colored knee highs and a hole in each heel to insert your thumbs through. Place one arm into each knee high. Fill out the muscle in the arms using cotton batting.
Step 2
Draw an anchor on the pantyhose on one of the forearms, using a black permanent marker.
Step 3
Wear a white sailor's shirt with a blue color. If it is cold outside, you could opt for a blue navy pea coat instead. A pair of navy-blue sailor pants or navy-blue dress pants works well for the bottoms.
Step 4
Wear a white, front-brimmed sailor hat. The hat should be all white on the front. If yours has an emblem, you can either remove the emblem or cover it with white fabric.
Step 5
Carry a can of spinach and a pipe to round out the outfit.
Olive Oyl
Step 1
Attach a length of white ruffle to the collar of red long-sleeved shirt using a sewing machine. Also, attach a length of white ruffle around the end of each of the sleeves of the shirt.
Step 2
Sew a length of yellow ribbon to the bottom edge of a long black pencil skirt.
Step 3
Wear white knee socks and a pair of brown calf-high boots. Roll the socks down until they are just above the top of the boot.
Step 4
Use hair gel to slick back your hair and pull it into a twisted bun at the base of your neck. If your hair is lighter-colored, consider dyeing it with washout black hair dye.
Tip
Search the thrift stores. You can find most pieces you need for your Popeye and Olive Oyl costumes at your local thrift stores or consignment shops. You may also be able to find what you need in your own closet.