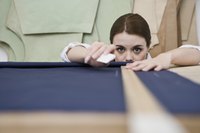 The Cricut, a personal die cutting machine by Provo Craft, is a handy tool for anyone who likes to craft. This machine is most often used by paper crafters to embellish homemade cards and scrapbook pages, but it isn't limited to cutting paper. Use your Cricut machine to cut fabric that can then embellish infant onsies, tote bags, shirts or other fabric items. You can even use the Cricut to cut fabric appliqués to dress up quilt squares.
Things You'll Need
Natural non-stretch fabric
Washing machine
Dryer
Clothes iron
No-sew adhesive such as Heat 'n Bond Ultrabond
Scissors
Cricut cartridge
New Cricut blade
New Cricut cutting mat
Masking tape
Wash and dry fabric like you would normally wash and dry an item of clothing made of the same fabric with the exception of fabric softener. Do not use any fabric softener on the fabric.
Iron out any wrinkles in your fabric.
Follow the instructions on the adhesive packaging to adhere the webbing to the wrong side of the fabric. Do not use a steam setting on your iron. Usually you will use a low setting on your iron. Lay your fabric on top of the side of the adhesive backing that doesn't have paper on it. Place your iron on top of the fabric and hold it in place for two seconds. Then, move the iron to a new location on the fabric that slightly overlaps where the iron just was and hold it there for two seconds. Repeat this process until the whole surface of the fabric has been pressed.
Cut a piece of fabric that will fit on your Cricut mat.
Put cartridge in Cricut machine and the corresponding keypad overlay on the keypad. Turn the machine on.
Place the piece of fabric on your new Cricut mat with the right side of the fabric facing down, lining the bottom left corner of your fabric up with the bottom left corner of your mat. Smooth the fabric onto your mat with your hands.
Place strips of masking tape on the edges of the fabric to further adhere your fabric to mat.
Load the fabric into your machine by placing the mat at the opening of the machine and pressing the "Load Paper" button.
Set your blade depth to "6," your pressure to "max" and your speed according to the design you want to cut. Set your speed lower for more detailed designs and higher for simpler designs.
Move the blade of your Cricut to the top right corner of your fabric, just inside the edge of the masking tape, using the directional buttons that are located around the "Cut" button.
Select the design that you want to cut using the keypad on your Cricut. Select the size of the design with your size dial. Press "Cut" when you are ready to cut the design.
Press "Unload Paper" when the machine is done cutting. Now you have your fabric cutouts.