Things You'll Need
4 1/4 x 1/4 x 1-inch balsa wood sections

4 1/4 x 1/4 x 3-inch balsa wood sections

4 1/4 x 1/4 x 6-inch balsa wood sections

1/4 x 1/4 x 12-inch balsa wood section

1/4 x 1/4 x 1-inch balsa wood section

1/4 x 1/4 x 2-inch balsa wood section

Model glue

8-inch section of string

Paper clip

Craft knife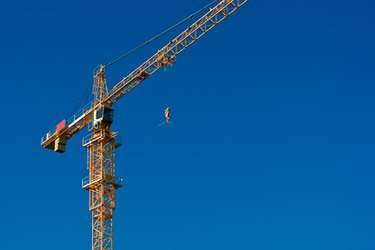 Balsa wood is used for many craft and hobby projects. A balsa wood crane can be used in making models and also as a child's toy. It would go well with a toy train set. In addition, any construction site with toy trucks, dump trucks, sand, sawdust and sticks needs a crane to move things around. A balsa wood crane is a good project for an adult to help a child construct. It requires only basic tools and is simple enough for a child to perform most of the tasks.
Step 1
Position two 1/4 x 1/4 x 6-inch balsa wood sections parallel to each other. These are the sides. Place one 1/4 x 1/4 x 1-inch balsa wood section between the sides at the top. Place one 1/4 x 1/4 x 3-inch balsa wood section between the sides at the bottom. This forms one of the side panels. Apply model glue to each joint. Allow to dry completely. Create three more side panels for a total of four.
Step 2
Place the four side panels together to form the tower-like structure of the crane. Glue the joints together with model glue. Allow the glue to dry thoroughly.
Step 3
Glue the 1/4 x 1/4 x 2-inch balsa wood section to the center of the 1/4 x 1/4 x 12-inch balsa wood section. The 2-inch section forms the pivot point for the crane arm. The 12-inch section forms the crane arm. The pivot point rests on the top of the tower structure.
Step 4
Tie the 8-inch section of string to one end of the crane arm. Tie a paper clip on the other end of the string. This can be used as the crane hook.
Step 5
Place the arm and pivot on top of the crane tower. Cut a small v-shaped indentation in the wood where the pivot sits with a craft knife. This will keep the pivot from rolling off the top of the crane.
Tip
Paint the crane bright colors if the crane is to be used for a child's toy. Paint the child's name for the construction company.
Warning
Supervise children with the use of model glue and a craft knife. Only older children should be allowed to use these materials and tools.