Things You'll Need
Circle of quilted fabric, four inches diameter

Rectangle of quilted fabric, 12 inches by 10 inches

Rectangles of regular fabric, 20 inches by four inches

Scissors

Pins

Thread

Sewing machine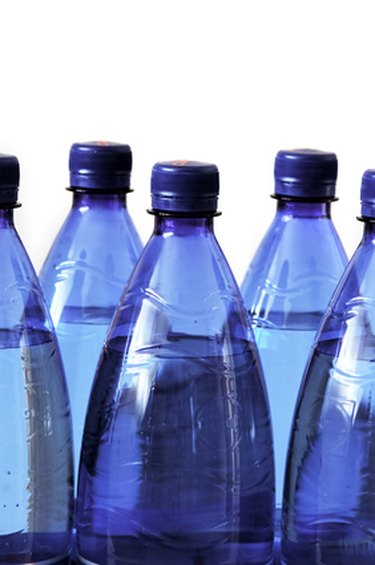 It is not uncommon to see people carrying water bottles. Non-recyclable bottles, such as those made from aluminum, are better for the environment because plastic is not being thrown away after each use. However, aluminum water bottles are not insulated, so they do not keep water cold very long. Nor do they keep hot beverages hot. Making your own bottle carrier from quilted fabric insulates the bottle and helps you carry it easily as well.
Step 1
Fold the large rectangle of quilted fabric exactly in half lengthwise with the right sides facing each other. You should have a double layer of fabric measuring 10 inches by six inches. Sew the open 10-inch side closed, allowing ½ inch for the seam. Now you have a tube with both ends open and the wrong side of the fabric facing outward. Leave the seam on the outside for now.
Step 2
Pin the circle of quilted fabric to one end of the tube. Make sure the right side of the fabric is facing the inside of the tube. This will be the bottom of the bottle insulator. Sew it to the tube, again allowing ½ inch for a seam allowance. All the seams should be on the outside at this point.
Step 3
Turn down the open end of the tube ½ inch, then another ½ inch. Stitch down this hem.
Step 4
Fold the other rectangular pieces of regular fabric in half lengthwise with the right sides of the fabric facing each other. It should measure 20 inches by two inches. This will become the strap of the bottle insulator. Sew the open 20-inch edge with a ½-inch seam allowance. Turn the strap right side out. Pin each end to opposite sides of the tube with the strap seam facing out. Stitch in place.
Step 5
Turn the tube right side out. This should ensure that all the seams are now on the inside, including the seam of the strap. Your bottle insulator is now complete.
Tip
These instructions can be easily adapted to any size beverage bottle. Measure the diameter, circumference and height of the bottle and alter the sizes of the fabric pieces accordingly. Do not forget to add one inch for seam allowances to your measurements.
You can vary the length of the strap depending on the size of the person who will be using it or how it will be used. These directions are for a shoulder strap.
Make the straps from old neckties or belts.
Add a drawstring in the top hem for added insulation.