Things You'll Need
Worsted weight yarn

Size H crochet hook

Scissors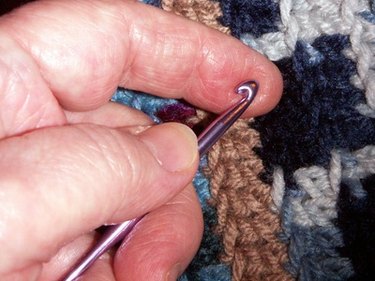 Filet crochet is a fancy term for crocheting a mixture of stitches and chains. This results in crocheted fabric that is part solid stitching and part decorative spaces. A filet crochet afghan is lacy and feminine, but since it only has half as many stitches as a regular piece of crocheting, you need less yarn to make it. Filet crochet can be elaborate or simple, depending upon the pattern, but all the designs depend on a series of stitches and spaces to create the design. The stitching itself is easy since it only uses the chain and the double crochet stitches.
Step 1
Make a loop in the end of the yarn. Make chain stitches until your chain is the length of your desired afghan width.
Step 2
Create a double crochet in the second chain from the hook. Double crochet in the next chain. Chain two times. Skip the next two stitches, and then make two double crochet stitches in the next two stitches after that. Continue in the pattern of two double crochet and then two spaces, then two more double crochet, until you reach the end of the row. End with a set of double crochet stitches.
Step 3
Chain two and then turn. Chain two more to create the first space above the two double crochet in the row below. Make two double crochets in the space below after the first two double crochets. Then chain two to create another space. Continue in this manner, making a space above all the double crochets and double crocheting above all the spaces. End the row with two chain stitches, then slip stitch into the end of the row below to create the last space.
Step 4
Continue making rows, alternating between rows that begin with two chain stitches and rows that begin with two double crochet stitches. You will be creating a checkerboard effect with a series of solid stitches and empty spaces.
Step 5
Fasten off the yarn at the end of the row when the afghan is the desired length. Weave in any loose yarn ends so that they are hidden in the crochet stitching.
Tip
This pattern makes a quick and attractive baby gift. Switch to baby yarn or sport yarn and use the size crochet hook called for on the skein wrapper.