Things You'll Need
Sponge or soft brush

Soapy water

Spray polyurethane

Rubber bands

Drill

Premade light socket

Hot glue gun

Razor knife

Light bulb

Lamp shade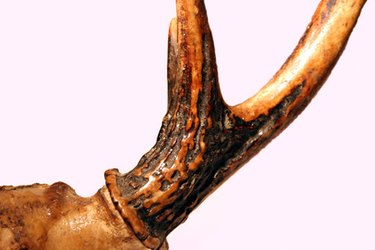 Decorating with antlers has become all the rage in recent years. Antlers epitomize country décor. Looking around in high priced houses all the way down to country cottages, you will find a variety of antler decorating ideas. If you have antlers that you want to put to use, look no further. Lamps are useful for any room of the house, so this simple craft project will certainly be appreciated.
Step 1
Clean the antlers thoroughly using a sponge or soft brush and soapy water to make sure they are clean. Keep in mind that the antlers will not be white, but rather off white or cream colored.
Step 2
Spray each antler with two coats of spray polyurethane, allowing the coats to dry between applications. Be careful not to handle the antlers before the polyurethane is completely dry or you will have fingerprints on them.
Step 3
Stack the antlers in different combinations until you find a look that suits you. Hold the antlers in place with rubber bands at this time.
Step 4
Place an inverted antler on top of your antler stack. The horns should be pointing down. Drill a hole large enough for the cord or your premade light socket through the bottom (the part that goes against the animal's head) of the antler, about one inch deep. Then drill another hole in the side about one inch down so that it intersects with the hole you drill in the bottom of the antler. Once you have your holes drilled, thread the light cord through the holes, and secure the antler, horn side down, to the rest of the antlers.
Step 5
Position another antler slightly higher than the one with the light socket. This antler will need to hold the lamp shade.
Step 6
Heat up the hot glue gun. At each of the places where the antlers touch, put a small dab of glue to hold the antlers in place. Also, put a small amount of glue under the light socket, around the cord, for added stability. Allow the glue to dry completely.
Step 7
Cut each of the rubber bands away from the antlers with a razor knife. Be sure not to knick the antlers with the knife.
Step 8
Install your light bulb in the socket and put your lampshade over the light bulb to complete your rustic antler lamp.