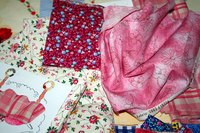 A quilt can be made from almost any fabric. The fabric content will, however, dictate the use and proper care of the quilt. Making a quilt with polyester is much the same as creating a quilt from cotton. To effectively deal with any stretch and the various textures inherent to these fabrics, many types of polyester require the addition of lightweight iron-on stabilizer prior to cutting the quilt pieces. To make a beautiful quilt from polyester fabric, use a wide variety of textures, colors and prints, and choose an uncomplicated pattern. A simple patchwork of 4- or 6-inch squares is ideal.
Things You'll Need
Variety of polyester fabrics
Lightweight iron-on fusible interfacing
Press cloth
Iron
Ironing board
Scissors
Rotary cutting tools (optional but recommended)
Pins (fork pins recommended)
Sewing machine
Thread
Quilt batting
Quilt backing
Quilt binding
Safety pins (optional)
Pearl cotton or yarn (if tying quilt)
Spray bottle of water (optional)
Prepare the Fabrics
Ensure laundering compatibility of all fabrics being considered and reject any that are inappropriate for the intended use and care of the quilt. Remember, you have to launder the quilt based on the care requirements of the most delicate fabric used.
Prewash and dry all fabrics according to each manufacturer's instructions. Do not use fabric softener of any kind.
Apply lightweight fusible stabilizer to the backside of each fabric prior to cutting the quilt pieces. using a press cloth and following the manufacturer's instructions, Stabilize all fabrics that have any stretch or that are slick, thin, sheer or delicate.
Make the Quilt Top
Cut the necessary number of quilt pieces from each fabric based on the pattern being used. For example, a 48- by 60-inch patchwork quilt made of 6-inch squares requires 80 squares total, or eight squares each of 10 different fabrics.
Arrange the quilt pieces so that the different textures and colors are spread throughout the quilt. Be sure that similar fabrics are not placed adjacent to one another.
Sew the quilt squares into rows. Press the seams in one direction after constructing each row. Press the seams of adjacent rows in opposite directions so that they "nest" when sewn together.
Sew the rows together to form the quilt top and press the seams in one direction. Although ¼-inch seams are standard in quilt top construction, use ½-inch seams if any of the fabrics being used are thick or heavily textured. If using ½-inch seams, increase the size of the cut squares accordingly.
Construct the Quilt
Once the quilt top is completed, layer it with the batting and backing fabric. Baste or pin the three layers together neatly. Working from the center to the edges, smooth all three layers to prevent distortion or wrinkles.
Tie the quilt on an even grid using pearl cotton or yarn, or machine quilt; quilters do not recommend hand quilting through polyester fabric.
Finish the edges of the quilt using homemade or commercial quilt binding.