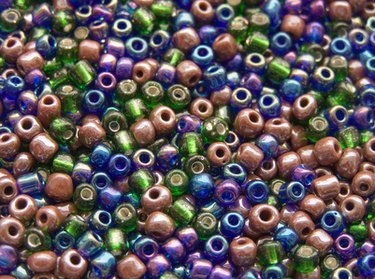 Store-bought ornaments can certainly be splendid, but handmade ones are more personalized and often turn into treasured keepsakes that families keep forever. DIY beaded Christmas ornaments are especially nice because they take more effort than paper cutouts and reflect the light of your holiday strands. They are also a fun craft to do with the kids, and you can make them as holiday gifts that you can hang on Christmas Eve.
Making Beaded Christmas Angel Ornaments
Some DIY angel ornaments are easy enough for children to make. Gather together plastic or glass beads in different sizes and colors. Angels are generally white, gold and silver in folklore but feel free to be creative. Get some metal wire, wire cutters, pliers, about 15 size-two safety pins and wooden beads. Open the safety pins and add on the beads. If you're doing this with kids, help them with the safety pins so they don't get poked. Avoid crafting with very young children.
Secure the pins and cut two pieces of wire: one that is 10 inches and one that is 20 inches. Fold one end of the 10-inch wire to prevent the beads from falling off. Thread the other end through a safety pin's top hole and then thread on a larger bead. Keep doing this until the pins are all threaded, ending with a bead. Now, thread the second piece of wire through all the smaller safety pin holes, not using any beads.
You should end up with a skirt shape. Adjust as needed and twist together the bottom part and top wires. Snip off the bottom wire once it is closed but leave the top wire twisted closed and uncut. Hold those top wires together and string them through a large bead that you can use for the angel's body. Take one of the wires, add beads and form it into two wings. Knot the ends, bring them to the top and string on another bead for the head. The remaining wire can be beaded with smaller beads to form a halo. Wrap the end and snip the wire.
More Homemade Angel Ornaments
There is an even easier way to make DIY angel ornaments. This style of ornament looks completely different, but it may be a good choice if you'd like to avoid the use of sharp objects, like safety pins. You will need a 1-inch wooden bead, a 3-inch teardrop crystal, two paper or plastic leaves, one paper or plastic flower head, craft glue, paint and a marker (glitter glue is optional). If you can't find wooden beads in the skin-color tone you want, paint them and allow them to dry completely before proceeding. Then, draw on a face with a marker.
Decorate the leaves to make them resemble angel wings. Glitter glue is helpful for this part. Glue the wings on the back of the teardrop crystal and then glue the flower head on top of the wooden bead. Use more glue to connect the head to the body. Add a wire loop and hang the ornament on your tree.
Nonbeaded Angel Ornaments
Are you not that into beads or the idea of beaded Christmas angels? There are other homemade angel ornament styles you can use for inspiration. You can use a seashell body with wings made from sea glass, all glued onto cardstock and hung with twine.
You can craft wooden spoon angel ornaments with faces drawn on the back. These can also have yarn hair and paper doily wings. You can create a pine cone angel ornament using a pine cone for the body as well as thin gold wire, white air-dry clay, thread, ribbon and tissue paper.