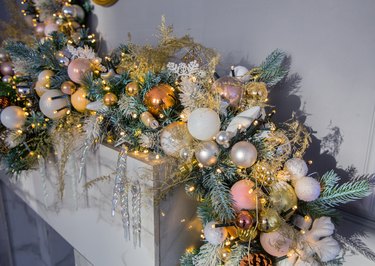 The holidays mean celebrations and in some cases, you may have to plan for a party or banquet in a hotel or other commercial venue. When planning the Christmas hall décor, consider the specific rules and guidelines of the venue, layout, color scheme, lighting and table settings. In general, be sure to provide sufficient space for the attendees and catering staff to move between the tables safely while transforming the décor into a magical experience.
Banquet Hall Decoration Basics
Before you begin, review the venue's guidelines for decorations. Some spaces don't allow nails or screws in the walls, while others may prohibit tape. Removable adhesive hooks may be acceptable. Open flames like candles may be allowed when inserted into cylinder-, pillar- or hurricane-type glass holders – or may be completely forbidden. When in doubt, ask for clarification.
Plan the table layout to ensure there is enough room for guests to move amid the chairs and tables in order to socialize. Round tables allow conversation and accommodate more guests than a U-shaped or herringbone arrangement of rectangular tables. Also allow space for the buffet or dessert tables, depending on whether the event includes a sit-down dinner, buffet or individual stations with or without an attending chef. If dancing is part of the party, include an area for dancing and sufficient space for the band or disc jockey and equipment.
Color Schemes for Christmas
Though Christmas decorating ideas for a banquet hall may include traditional red, green and gold, you aren't limited when choosing a color scheme for the hall decoration. Consider royal blue and silver; purple, pink and silver; aqua, pink and yellow or gold; black and silver or a monochromatic white and silver color scheme. If you prefer a tropical theme, use bright Caribbean colors and rainforest-, island- or ocean-focused decorations.
Decorate with the color combinations that suit your party theme. For a business or corporate party, consider combining the logo colors with gold or silver to encompass the company colors within the Christmas theme.
Lights, Garlands and More
Wind twinkle lights around columns and string them across the hall to give the ceiling the appearance of a starry night. Drape more twinkle lights over the windows and around doorways. Consider covering windows and/or walls with Christmas lights in netting, then a layer of sheer white, metallic or aqua curtains to provide an ethereal visual experience. Put the lights on a simple fade and brighten setting if possible.
Metallic garlands, with or without lights, dress up trees, doorways and the buffet table. Removable adhesive hooks allow you to add garland swags to walls without damaging the wallpaper or wall surface. If your theme includes one or more Christmas trees, wrap them in lights and garlands and top with sparkling stars.
Set up a corner for photographs, with a rented sleigh or free-standing arch decorated with lights, sparkling garlands, shimmering snowflakes and fluffy artificial snow. If your holiday theme is tropical, use blues, hot pink, yellow and lime green with palm trees and a surfboard or decorated dinghy. Whether you hire a photographer or encourage guests to take their own photos, make your photo corner into a memorable setting.
Cover the tables with the darkest color in your scheme, then layer smaller white or silver tablecloths over the top. Round silk, sheer organza or metallic lamé toppers or runners provide bases for the table centerpieces. Add gold or silver chargers under white dinner plates and arrange the place settings in a formal or informal style, depending on the formality of the event.
Centerpieces might include poinsettias, greenery and/or clear or gold- or silver-patterned candleholders with real or battery-operated candles. Alternatively, consider using a crystalline multiple pillar candle holder and a mirrored base, then surrounding it with flowers and greenery. If the color scheme incorporates aqua, purple, pink or other non-traditional colors, use candles that match the other decorations. Tiny round Christmas ornaments, hand-made paper or silk bows or, in a tropical theme, seashells and bright flowers tucked amid the other decorations add interest and color to the arrangement.