Decorate your own cowboy or cowgirl hat for a special occasion, a party or just for fun. Use items you already have, or, if you're watching your budget, pick up some clearance items from a craft store, to enhance any plain cowboy hat. Decide on a theme for your hat or determine how outlandish you want it to be before you begin decorating, to help you figure out what embellishments you should include. You can decorate just one hat, or you can work on more than one as part of a family activity or a class project.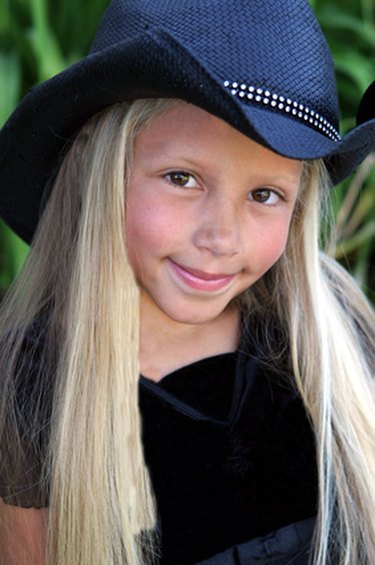 Things You'll Need
Buttons Or Pins

Hot Glue Gun

Ribbon, Belt Or Felt

Feathers

Beads

Cowboy/Cowgirl Hat

Coins Or Medallions

Silk Flowers
Step 1
Create a band around the hat using ribbon, felt or a belt. Any material that you want to use can be cut or manipulated to fit around the hat, creating a thin or wide band to fit your preference. Use hot glue to secure the band, leaving gaps in the glue if you plan to stick any decorations in the band.
Step 2
Slip feathers or silk flowers just under the band and arrange them to your liking. Use got glue to secure them in place. One, two or three medium-sized feathers or silk flowers will make a tasteful small arrangement, or use a cluster of smaller ones for a more gaudy look.
Step 3
Wrap a string of beads around the hat using colors, shapes and the size that complements the purpose of the hat. For example, a cowgirl hat for Mardi Gras might include multiple strings of round purple, gold and green beads.
Step 4
Dress up your cowboy or cowgirl hat with other items such as novelty coins, medallions, buttons and pins. Use hot glue to secure them in place in a circle around the brim of the hat or in a pattern. For example, pink buttons can be glued in a heart shape onto one side or the top of the hat for Valentine's Day.
Tip
Hold the items in place around the hat before gluing them to be sure you have the decorations where you want them.
Use light-weight items to decorate light-weight hats, such as feathers and tissue paper decorations on hats made of paper or felt.
Warning
Never allow a child to use a hot glue gun without supervision.