Things You'll Need
Large soup pot

Large skillet

Wooden spoon

Whisk

1/2 cup cooking oil

1/4 cup flour

1 cup cooking sherry

1 yellow onion, chopped

3 pods garlic

1 bell pepper, chopped

1 celery stalk, chopped

6-8 cups of water

1 lb. lump crab meat

1 lb. shrimp, peeled and de-veined

2 cups cut okra (optional)

1 pt. oysters

1 lb. andouille sausage

Dash cayenne pepper

3 tbsp. gumbo file.
When folks think New Orleans cuisine, seafood gumbo is usually one of the first dishes that comes to mind. Part soup and part stew, this hearty, rich-flavored dish is served over a bed of warm rice with saltine crackers.
Step 1
Pour 1/4 cup of oil into the large soup pot and pour the other 1/4 cup into the skillet. Bring the heat to high in the skillet, and medium in the soup pot. Add the onion, garlic, celery and bell pepper to the soup pot and stir the vegetables with the wooden spoon.
Step 2
In the skillet, allow the oil for the roux to become sizzling hot. Slowly pour the flour into the hot oil while stirring constantly. Continue to stir until the mixture begins to turn brown in color. The texture should become almost dough-like. Pour a small amount of cooking sherry in while continuing to stir, until the roux begins to liquefy slightly.
Step 3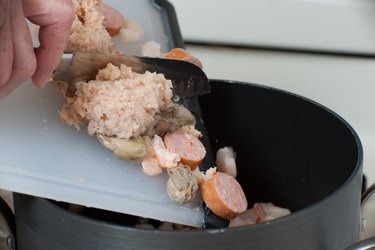 Transfer the roux into the soup pot. Add the shrimp, crab, andouille sausage and pint of oysters. Stir the meats in well. The oils from the sauteeing seafood should help soften the vegetables some. If you are using okra, add it now.
Step 4
Allow the vegetables and seafood to cook on medium heat for approximately 30 minutes. Add the six cups of water and let the mixture come to a full boil. Allow to cook on high for 30 minutes.
Step 5
Turn the heat down to medium and add cayenne pepper and three tablespoons of gumbo file. Stir well. Allow the gumbo to cook on medium to low heat for approximately 30 more minutes. Add more file, if needed, to thicken the gumbo. Serve over steamed rice.
Tip
Okra is optional in this recipe. Okra is found in many seafood gumbos. However, there are a number of people who don't particularly care for the texture of cooked okra, which can sometimes be slimy. Okra is primarily used as a thickening agent in most gumbos. Thus, the amount of gumbo file for this recipe has been stepped up some. Gumbo file is derived from the sassafras bush, which was harvested by Choctaw Indians and ground down to be used as a thickening agent.