Things You'll Need
Color wheel

Wood stain (optional)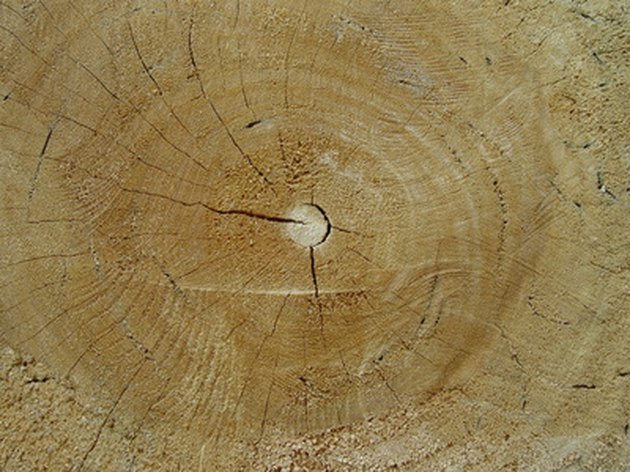 Incorporating wood to any style of decoration brings in warm tones and a solid feel to the room. Wood can be added by means of doors, plantation shutters, furniture pieces or flooring. The colors and shades may range from light-colored pine and elm to red cherry and dark walnut and oak. It is also possible to stain light wood a red or dark tone using wood stain to match the colors of the walls.
Step 1
Consider the purpose of the room and evaluate the color of the walls. A room that is intended to be calming does well with light and warm colors such as yellow or green. A more active room tends to work well with bright colors such as red and certain shades of off-white. Once you are sure your wall colors are what you want, you can begin to look at wood tones to match the walls.
Step 2
Decide how you will incorporate the wood into the room. Wood can be added to a room with furniture, window treatments, doors and flooring. If you will be installing wood flooring, take into account that dark-colored wood shows dust much more than light-colored wood, requiring a bit more maintenance.
Step 3
Look at the color wheel for colors that either contrast or complement your wall colors and decide on the type of wood that will work with your walls. For example, a terra cotta wall color will draw out the orange tone in wood.
Step 4
Decide whether you are going to leave the wood in its natural state or if you are going to use stain or paint to match a specific color chosen from the color wheel. Stains are usually used to darken or redden light-colored woods. With paint, the original color does not matter since it will be covered completely.
Step 5
Place the wood in the room. If the color does not match the look you had planned, consider adding different elements, such as pillows or fabric, in order to attempt to make the colors come together. Otherwise, consider changing either the color of the walls or the color of the wood to achieve your desired combination.
Warning
If you are considering painting your wood, make sure it is a final decision. Stripping paint off wood requires the use of harsh chemicals and is a labor-intensive process that never leaves the wood looking the same as it did before the paint.