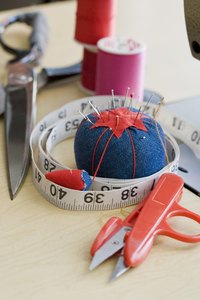 Parents love to swaddle their babies in soft, cozy blankets. The next time the invitation for a family member or friend's baby shower comes in the mail, consider making a homemade baby blanket. Handmade gifts make useful keepsakes for both the new baby and the parents. This fleece blanket sports a flannel lining and will keep the baby warm and cozy. Best of all, the pattern is simple to follow and can be customized to any color scheme. It involves very little sewing, and with a bit of practice almost anyone can create customized baby blankets.
Things You'll Need
Flannel fabric, 60 inches wide, 1 2/3 yards long
Fleece fabric, 60 inches wide, 1 2/3 yards long
Measuring tape
Fabric marker
Straight pins
Sewing machine
Scissors
Thread
Mason jar lid
Embroidery floss
Needle
Sewing the Blanket
Measure the flannel fabric to create a 44-inch by 44-inch square. Draw the 44-inch by 44-inch square on to the fabric with the fabric marker. Trim the fabric to the correct size, using the drawn lines as a guide. Repeat these steps with the fleece fabric.
Place the fleece square on top of the flannel square. Place the fabrics so that the front sides face each other. The blanket will appear to be inside out. Pin the two pieces of fabric together using straight pins. Place the pins in a straight line around each side, about 1 1/2 inches from the edge.
Sew the two pieces of fabric together using a straight stitch on the sewing machine. Use the pinned lines as a guide and remove the pins as you sew. Do not sew one corner; flip the blanket right side out through the open corner. Sew the unfinished corner closed.
Finishing the Blanket
Trace a scalloped pattern around the edges of the blanket using the Mason jar lid as a guide. Draw semi-circles along the edges to create a scalloped edge. Cut away the excess, leaving the blanket's edges scalloped. Keep the fleece on top. The flannel serves as the lining.
Create an optional decorative stitch along the scalloped edges. Thread the needle with the embroidery thread and stitch a V stitch along the edges of the blanket to create a decorative edge. Remember, the V should show on the fleece. From the edge of the blanket, stitch a small diagonal line into the center. Then, stitch a diagonal going back to the edge to create a V shape.
Continue to stitch V shapes around all of the edges of the blanket. Keep the V shapes a consistent size around the entire blanket. At the end, tie a knot in the thread on the back side of the blanket to hold the decorative edge.