Things You'll Need
Measuring tape

Level

Pencil

Curtain rod

Valance rod

Pins

Hand needle

Thread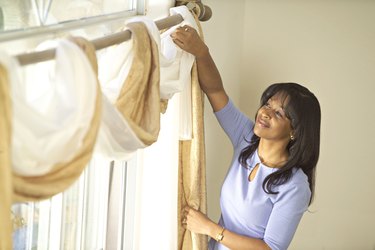 Curtain panels are a common window treatment used in home decors. Panels are used to set the tone and atmosphere of the room with varying styles, lengths, prints and colors. Valances can be hung with panels to add interest and dimension to the window treatment. The panel and valance combination can be hung together with a small amount of planning. When hanging panels and valances, consider contrasting the fabric colors.
Step 1
Measure the width of the window to be covered. Make a light mark with the pencil at the window's horizontal center. Measure the length of the curtain rod and mark the center.
Step 2
Align the curtain rod's center over the window's center. The curtain rod's height placement from the top of the window should be two inches. Install the first curtain rod bracket according to the packaging instructions.
Step 3
Advance to the opposite end of the window. Hold the level side-to-side with one end at the mounted bracket and the other end at the second bracket position. Read the level to make sure the bracket positions are even. Install the second rod bracket, following the packaging instructions.
Step 4
Measure the header height of your valance. The header is the fabric that is stands up above the rod pocket. Start at the crown molding (the wood covering the seam between the ceiling and the wall) and measure downward the distance of the header. This is the maximum height position for the valance rod.
Step 5
Install the valance rod approximately an inch above the curtain rod but no higher than the maximum height position. Adjust this placement to suit your individual preference. Install the brackets in the same manner as you installed the curtain rod brackets.
Step 6
Place the panel on the curtain rod and hang the rod in position. Place the valance on the valance rod and hang. Observe the panel length. If the panels hang closer to the floor than you planned, consider hemming the lower edge. Mark the desired finished length with a pin.
Step 7
Take the panels off the rod and lay them out flat with the right side down. Turn the panel bottom edge up half the distance to the finished size. Turn again, to the reach the finished size. Secure with pins and hand stitch. This creates a double hem.
Tip
Consider purchasing a double curtain rod. These accommodate valances and panels together.
Warning
Avoid hanging the valance below the window's top casing. This creates an awkward appearance for the window treatment.