Things You'll Need
Pins

Thread

Scissors

Needle or sewing machine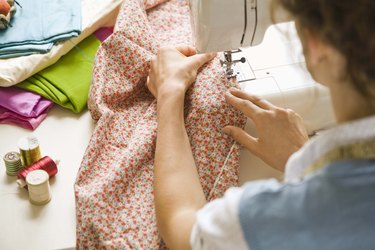 Too-big shirts often have the unflattering effect of eliminating the wearer's waist. There can be many reasons for this, such as a person with a large bust being forced to purchase shirts that fit in the bust but swallow up her naturally small waist. Similarly, boxy t-shirts, while comfortable, can have the unflattering affect of making the wearer appear to be square or block from all sides, unflatteringly billowing in a straight line from shoulder to hip. Fortunately, altering a shirt to make it have a waist is as simple as adding darts, nipping it in over the wearer's curves.
Step 1
Put the shirt on the intended wearer. If it is a button front shirt, button it as it is most often worn, whether buttoned to the neck or with a few buttons undone. Have the wearer stand naturally without slouching.
Step 2
Use four or eight safety pins -- depending on whether you decide to add darts to both front and back of the shirt -- to mark the position of the darts. In the front, place one safety pin just under the center of each breast, or centered on the panel for button front shirts. In a straight line below it, place another pin at the top of the hip. Back darts should be placed just below the shoulder blades, with the bottom back pin aligned with the bottom front pin.
Step 3
After removing the shirt, turn it inside out.
Step 4
Using the preliminary pins as a guide, pin along the line where the darts will be positioned. The depth of the darts will depend on the wearer's measurements and the original size of the shirt. The deepest portion of the darts should be at the center of the line between the hip pin and the breast pin.
Step 5
Try on the shirt again, carefully, to test the placement of the darts. If desired, you can baste the darts, remove the pins, and then try it on to test placement. Adjust as necessary.
Step 6
Sew the darts, by hand or machine, once desired placement is achieved. Use a thread that complements the shirt's color.
Step 7
Trim the excess material created by the darts, carefully avoiding your stitching. This prevents the excess material from creating unwanted bulk which would eliminate the waist you just worked to create in the shirt.
Tip
For patterned shirts, like plaids or stripes, ensure the pattern matches up properly before your final stitching.
For a simple approach, depending upon the style of the shirt, you can skip the darts and simply gather the fabric in at the waist and wear a decorative belt over it.