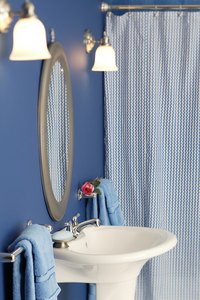 Making your own L-shaped shower curtain rod is a good way to create a custom curtain rod, and may end up being a lot cheaper than purchasing an L-shaped rod, or having a plumber install one. You can use simple copper tubing to make a curtain rod, and you do not need to do any welding or have any plumbing experience to get the job done.
Things You'll Need
Measuring tape
Copper tube
Tube cutters or hacksaw
1 three-way pipe connector
3 mounting flanges and accompanying hardware
Drill
Measure the outer edge of the bathtub or shower basin side and end where you want the "L" curtain rod to go. Add an inch onto the length and width measurement so you can make the rod will be slightly larger than the tub or shower basin.
Cut two pieces of copper tube to the length and width measurements taken using tube cutters or a hacksaw.
Insert the end of the length piece into one side of a three-way pipe connector, and the end of the width piece into the other side, with the remaining opening facing upward. This will make a corner, and give you the "L" for the curtain rod.
Measure down from the ceiling to the height you want the curtain rod to hang, and cut a third piece of copper tube to this length. Insert this piece upright into the third opening of the three-way connector.
Insert a mounting flange onto the free end of the length, width and upright height copper tubes, and connect the flanges to the tubes with the screws that accompany the flanges.
Hold the curtain rod over the bathtub or shower basin in position, with your helper assisting. The flange of the upright rod should sit flat on the ceiling, with the flanges on the ends of the length and width pipes flat on their respective walls.
Secure the flanges to the walls and ceiling with the screws that come with the mounting flanges.