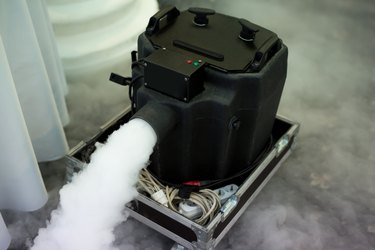 A fog machine adds an extra level of spooky fun to your Halloween party. For indoor use, it's important to note that some fog fluid leaves behind a residue that can be slippery. Some fog machine fluid may also cause breathing issues for people with asthma or sensitivities. Always read the instructions on both the fog machine and the fog liquid to ensure proper use and don't use too much in too small of an area.
Not all fog machines are created equally. Besides variations in wattage, each machine requires a specific type of fog fluid and may clog or otherwise not function properly if the wrong liquid is used. The most common fog and smoke machines often use a fog fluid containing propylene glycol, triethylene glycol or glycol derivatives mixed into water. Some fog juice contains glycerine instead of glycol-based substances. Thoroughly read your fog machine's packaging or user manual to ensure you purchase a compatible fog juice; typically, the retailer selling the machines also sells the liquid.
The amount of fog fluid you need also depends on the wattage of the machine itself. The higher the wattage, the greater the fog output per minute. This also means that the higher the wattage, the faster the machine runs out of juice. In a 400-watt fog machine, 1 quart of fog fluid lasts four to six hours, while a 1,000-watt machine uses the same amount of fluid in two hours.
A fog machine gets hot and also needs to be plugged into a nearby grounded electrical outlet. Since the fog and dimmed lights in your haunted house Halloween party make it harder for guests to see, make sure the power cord is in an area where no one can trip over it. Remove any flammable or fragile items from the area; this also means setting up the machine away from flammable window coverings. Though you'll have the windows closed when using the fog machine, make sure ventilation is available in case the room becomes too smoky, as it's important to clear the air quickly if that happens.
Using a Fog Machine Safely
Test your new fog machine well ahead of your Halloween party to see just how much fog comes out at once. This also allows you to see how much warmup time it needs, which is typically around five minutes. Thick fog could make items in the room a tripping hazard, particularly if your guests aren't too familiar with the space. Remove any items that guests might trip over or bump into, such as a low coffee table.
Don't run the fog machine so long that it's impossible to see anything in the room; after all, you don't want guests bumping into one another. A machine with a remote control lets you add more fog as needed no matter where you are nearby. If your Halloween party has special decor just for the occasion, consider adding colored lights or other illumination specifically for those items. When the fog rolls in, it takes on the light color for a wonderful special effect.
A fog machine may cause a smooth floor to become slick and slippery. Do not use it in an area that typically becomes slippery when wet. Some fog juice may also irritate the lungs, so don't use the fog machine in a very tiny room and don't use so much fog that the entire room looks like a cloud. Some fog juice also leaves a sticky residue.