Things You'll Need
Fabric

Matching thread

Needles

Measuring tape

Scissors

Pattern

Sewing machine

Fasteners

Washing machine

Scissors

Pins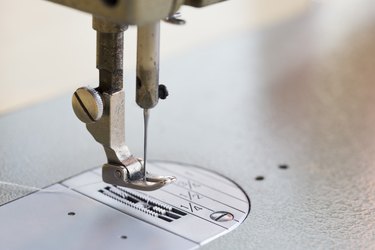 Whether you want to offer the man in your life a gift that is both personal and functional, or you are a man who would like to add some dash to his wardrobe, consider learning how to sew a man's coat. Men's coats can be utilitarian, decorative or both, and the coat that you create can become a signature item in your wardrobe. Sewing a fully lined men's coat requires sewing experience, but the result can be rewarding.
Step 1
Decide what kind of coat you are interested in. A basic wool pea coat is a fairly simple project, whereas something that has more fit to it through the shoulders and the waist will be more complex.
Step 2
Take your measurements using your measuring tape. At the very least, you will need the measurements taken from shoulder to shoulder, the length of you arm, around your chest and from the top of your shoulder down to the place where the coat will fall. Some patterns will call for more specific measurements as well.
Step 3
Choose your pattern. If you do not have much experience with sewing, consider looking for a pattern that will spell out all the steps for you. If you have more experience, you can adjust your pattern to your tastes or even draft your own.
Step 4
Choose your fabric. When choosing fabric for a coat, you will find that fabric with little stretch is important for both the lining and outer fabric. Such fabrics include denim, corduroy, wool and cotton.
Step 5
Pre-wash your fabric. Pre-washing your fabric now will prevent it from changing shape or shrinking later on.
Step 6
Cut out your pattern. The measurements that you have taken will tell you how to cut out your pattern. Be careful because each pattern will have multiple lines that will result in clothing of different sizes. Make sure that you cut out the right pieces.
Step 7
Pin the pattern pieces to your fabric. Be careful to match the pattern of the cloth as necessary.
Step 8
Cut your fabric according to the pattern. You may wish to leave the pattern pieces pinned to each piece of fabric to make identifying the pieces easier.
Step 9
Sew your coat. Your pattern will give you instructions to follow, but if you have created your own pattern, you can proceed by sewing together all the body pieces and then sewing the sleeves into the body. If you are putting lapels or cuffs on your coat, they will be added last.
Step 10
Sew on the fasteners that your coat requires. Depending on the coat, the fasteners might be buttons, wooden toggles or zippers.
Tip
Iron your fabric before cutting it out. This will make cutting much easier.
If you decide to make a coat with a lining, choose a lining that is slippery and which will slide well over your clothing.
Warning
Be careful about how much fabric you feed through your sewing machine. Some sewing machines cannot sew through thick layers of cloth.