Things You'll Need
Sink with stopper

Aluminum foil

Hot water

1/4 cup salt

1/4 cup baking soda

Dish detergent

Long-handled spoon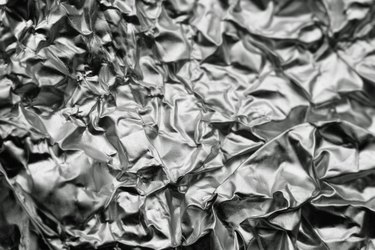 Silver pieces are a beautiful accent to any home, except when they are dingy and tarnished. Silver polish is effective, but messy and time consuming, and requires an enormous amount of paper towels to be effective, which can quickly become expensive. However, there is a way to clean silver using only detergent, foil, baking soda and hot water in a fraction of the time it takes to polish silver the traditional way.
Step 1
Put the stopper in the sink. Cover the bottom of the sink with a sheet of aluminum foil.
Step 2
Fill the sink with hot water. Add 1/4 cup salt, 1/4 cup baking soda and 1 tbsp. dish detergent and mix together with a long-handled spoon.
Step 3
Place tarnished silver items in the sink, making sure they are entirely submerged. Soak for five minutes.
Step 4
Remove the silver pieces from the sink, clean and drain the sink and dispose of the aluminum foil, which will be covered with tarnish. Wash the silver pieces with dish detergent, and dry completely.
Tip
To prevent silver from tarnishing, store it in tightly sealed plastic bags when not in use.
Warning
Cleaning silver pieces with this method can remove tiny amounts of silver, so do not allow the silver to soak in the solution any longer than necessary to remove the tarnish.
Silver pieces treated with niello, a dark coating that compliments intricate silver carving, should not be cleaned using this method, as the niello can be removed during the soaking process.