Things You'll Need
Ready made curtain

Curtain lining

Tape measure

Straight edge

Fabric marking pen

Fabric scissors

Common pins

Sewing machine

Matching colored thread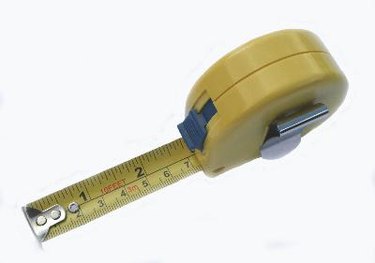 Curtains add to and complete the look of the room they hang in. In the winter time it's nice to have thick, lined curtains. They help to hold heat in and keep cold air out. If your favorite curtains are thin and you'd like to have them lined there is no need to have them professionally done, or custom altered. You can add a lining to any panel style curtain yourself. All you need are the right supplies and a sewing machine.
Step 1
Use a tape measure to measure then length and the width of the ready made curtain. Add 1 inch to both the length and width measurements to know how big the lining should be.
Step 2
Lay the lining face down on your work surface. Make sure it is smooth and straight, the length horizontal and the width vertical. Use a tape measure, straight edge, and fabric marking pen to measure and mark the backside of the lining according to the measurements you need. Make the line clear and dark so that you will have definite lines to cut along.
Step 3
Cut the lining to size using sharp fabric cutting scissors.
Step 4
Lay the lining face down on your work surface once it has been cut to size. Fold the top side of the lining down ½ inch. Secure using common pins, also known as straight pins, every 3 inches. Do not pin the corners as the sides will be pinned in the corners. Fold the bottom side up ½ inch, secure with pins. Fold the side edges over ½ inch, secure with pins.
Step 5
Use a sewing machine to stitch all pinned edges. Stitching twice is not necessary as the seam will be stitch again when it is attached to the ready made curtain. Remove all pins when you are finished sewing.
Step 6
Lay the ready made curtain face down on your work surface. Lay the lining over the curtain, evenly, face down. Secure all edges together by inserting pins every 2 inches. Secure the lining to the curtain by inserting the pin down through the lining and into the curtain, then back up through the curtain and the lining ¼ to ½ inch over from where the pin was first inserted.
Step 7
Use a sewing machine and a color of thread that matches or blends in with the color of the front side of the ready made curtain. Stitch all seams twice for added strength and durability. Remove all pins and hang the curtain.
Tip
Take your time. This is not a project that should be rushed.
Warning
Use care and caution when using a sewing machine or sharp scissors.