Things You'll Need
Construction paper or card stock

Computer

Printer

Crayons or markers

Scissors

Glue or tape

Toilet paper or paper towel tube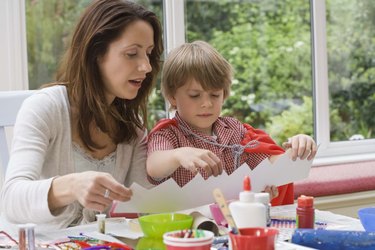 Children love to make crafts, especially for holidays. It helps to get them in the celebratory mood and they love to show off what they have made. An easy craft for Christmas is a paper Nativity scene. It is easy to put together, and provides a good opportunity to tell them the Christmas story as they work. It can be made in conjunction with school or Sunday School, or just as a craft at home.
By keeping the figures of Mary, Joseph and baby Jesus freestanding, you allow the children to re-enact the story of the birth of Jesus. They are able to play with it day after day, and not just the day they first make the craft. This craft is easy for children age two and older.
Making the Nativity in Two Dimensions
Step 1
Print out the black and white templates from the Reference or Resource at the end of this article.
Step 2
Color the different parts of the templates.
Step 3
Cut out all the pieces in Template #2.
Step 4
Glue or tape the pieces onto the corresponding areas on Template #1.
Step 5
Fold Template #1 on the dotted line.
Step 6
Glue or tape the toilet paper tube on the back, to help it stand up straight.
Making the People Freestanding
Step 1
Cut out the figures of Mary, Joseph and the baby Jesus from Template #2.
Step 3
Fold the figures on the dotted lines, forming a small triangle.
Step 4
Tape the paper where the ends meet.
Step 5
Place the figures in front of the stable.
Tip
Children can use glitter glue or paint when decorating the star, to make it shine bright.
Consider printing Template #1 on dark blue construction paper or card stock, to simulate the night sky.
If you are really crafty, you can free-hand some animals or other figures, such as wise men or shepherds. Place them on a rectangular piece of paper and fold them into a triangle, much like the Mary and Joseph figures.
If you are making one large flat Nativity for a classroom, you can free-hand the designs onto a large sheet of butcher paper. Allow the children to color in the shapes and decorate the manger. You could even glue on real straw. Cut out large figures of the people, including baby Jesus, and tape or glue them on top of stable. This would make a good wall hanging for the month of December.
If you want to get really involved with this project, cut out pieces of fabric that fit the figures and glue them onto the people. Make sheep with fluffy cotton balls and cows with jingle bells around their necks. There are unlimited possibilities with this craft. Make the bare bones and then add your own touch to it.