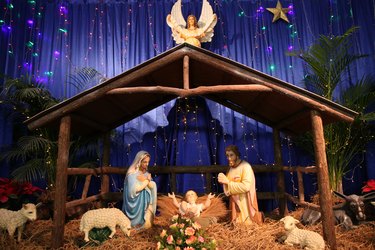 When it comes to lawn decorations, a DIY outdoor nativity scene can be the perfect way to make your home look festive without breaking the bank. All you'll need is some creativity and enthusiasm, plus a few basic supplies that you can buy at your local crafts or hardware store.
What You'll Need for an Outdoor Silhouette
First, determine the kind of pattern you want to use for your nativity scene silhouette. A manger and a frame with a star at the top can be enough to set the scene. If you have a little extra time, choose a pattern that includes Mary and Joseph for the whole holy family. You can include plenty of additional figures for more elaborate scenes: everything from angels to sheep and cows to wise men and shepherds. Or, you can start small for your initial silhouette, then add more figures each year. If you're feeling daring, you can draw your own patterns for the shapes. Otherwise, there are plenty of patterns to choose from on the internet.
You'll craft your silhouettes from pressure-treated plywood with thickness between 1/4 inch and 3/4 inch. A thinner piece of plywood takes less time to saw and sand, while thicker plywood is more durable in winter weather and therefore more likely to survive through many years of Christmases.
Additional Tools and Supplies
A jigsaw and palm sander will expedite the process of preparing your figures, but if you're willing to be patient, you can get by with just a hand saw and some sandpaper.
To finish the silhouettes, you need black or white exterior latex paint with semigloss finish, along with a paint roller for the flat surfaces and a paintbrush for the edges. Each figure in your nativity will also need at least one flat wooden landscape stake, again pressure treated to ensure longevity, and exterior screws to attach the stakes to the figures.
How to Construct Your Nativity Scene
Start by transferring your pattern to the plywood. You can project a pattern onto the plywood and trace it with a Sharpie marker if you have a projector. Otherwise, use carbon paper or paper silhouettes and trace onto the plywood, making sure to use firm lines.
Next, cut out the pattern using a jigsaw and follow the marker line you drew in the previous step. Make the big cuts first to clear excess plywood, then go back for the detail work later. Sand the rough edges of the plywood, a necessary step to ensure that your paint holds. If you have a palm sander, smooth out the front and back sides of the plywood to prepare it for the paint.
Apply primer to the silhouette, then paint two solid coats on either side, using a paint roller. When it's dry on both sides, go back with a paintbrush and paint two coats along the edges. Place your stake flush against the back of the silhouette and screw it in with at least three screws. And voila! Without spending much money, you'll have a gorgeous silhouette nativity scene to grace your yard for many years to come.