Things You'll Need
Crepe paper

Scissors

Chenille stems

Construction paper

Glue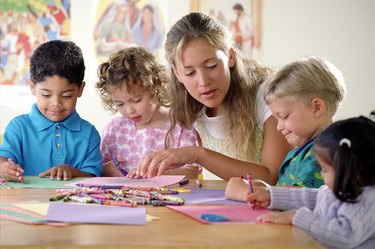 Crepe paper poppies are a quick craft idea to make for Veterans Day. Create a bouquet of these bright flowers for your Veterans Day celebration, and pass them out to family and friends. They're simple enough that kids can do them, too, and you can use this same basic craft to make other types of flowers at any time of the year.
Step 1
Cut several five-petaled flower shapes out of red crepe paper sheets (the kind that comes in flat sheets, not streamers). You will use three flower shapes for each poppy, so cut as many as you need for every flower you will make. Layer three flower shapes on top of one another and glue them together by placing a small ring of glue around the center of each flower.
Step 2
Poke a green chenille stem through the center of the flowers, going through all three layers. Fold the tip of the chenille stem over twice to secure it in place in the center of the top flower.
Step 3
Cut a circle out of black construction paper and glue it to the center of the top flower layer, covering and securing the chenille stem in place.
Step 4
Let the pieces dry, and then fluff up the petals to make them more poppy-like. They should curve upward slightly. Trim the chenille stem to the desired length and pass them out on Veterans Day.