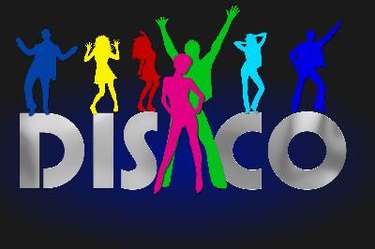 A '70s disco party conjures up thoughts of "Saturday Night Fever," the Bee-Gees, Studio 54, and singers and stars that were '70s fashion icons. You can easily find costume items online, at a costume store, in the back of your or your parents' closet or at a second-hand store. Combine several fashion items from throughout the decade to create an authentic '70s look.
Step 1
Wear bold colors. Women and men in the '70s often wore shirts and pants with colorful patterns and bright colors.
Step 2
Wear bell bottom pants. Women often wore bell bottoms but also wore short mini-skirts or dresses. Wide pants were a key fashion piece for the '70s disco scene.
Men wore fitted, collared shirts accompanied by a jacket or vest. The jacket sleeves should be flared at the cuffs for a '70s feel. Some men unbuttoned their shirts about halfway down their chest to reveal chest hair.
Women wore loose-fitting shirts or dresses with psychedelic patterns. The sleeves on women's shirts should also be flared.
Step 3
Wear a wig with a '70s hairstyle. Women had big curly hair, such as an Afro or Farah Fawcett-style curls, or long, straight hair that was teased. You can use a bight-colored headband as a hair accessory, if desired. Men often had shoulder-length hair, an Afro or short hair with volume.
Step 4
Wear '70s accessories to complete your look. Men wore thick-rimmed glasses or small round glasses with colored lenses. Consider wearing a hat or headband, peace sign necklace and other shiny, brightly colored jewelry.
Step 5
Finish off your look with perfect disco shoes. Women wore platforms and go-go boots. Men could wear a smaller platform shoe. Look for white shoes or colored and patterned shoes.
Tip
For costume ideas, watch the "Austin Powers" movies.