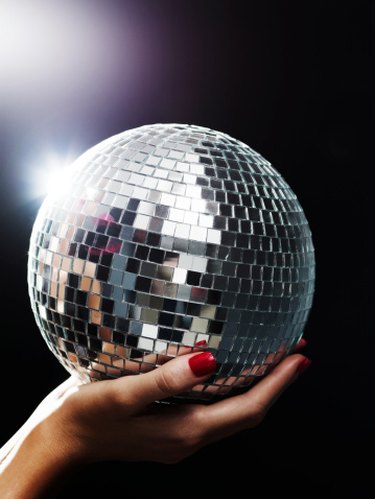 Finding a disco costume in your closet is easier than you think. Many modern clothing styles use elements developed during the disco era; today's styles are just tamer versions. But with a little alteration, it is simple to convert regular clothing into a disco costume. Almost everyone, men and women alike, can create a disco outfit from their closet.
Women
Step 1
Make a mini-skirt disco outfit from a mini-dress or short skirt. The style or color doesn't matter so much, just as long as the skirt is tight. A mini-dress with long sleeves creates the most authentic look. Mini-dresses made from solid colors or geometric patterns look the most like 1970s clothing.
Step 2
Women also can simulate a jumpsuit for disco-style outfits. Find a matching set of pants and shirt. The colors should be nearly identical. A halter style or long-sleeved shirt is best. Tuck the shirt into the pants to make it look like a jumpsuit.
Step 3
Use the chunkiest shoes that you have. Platform shoes were very popular during the disco era. Platform shoes from the 1990s and 2010s will work. If you do not have platform shoes, wear knee-high boots.
Step 4
Curl your hair in wide hot curlers. Use enough hairspray to maintain the curl, but not enough to make the curls stiff. There still should be movement in the hair.
Men
Step 1
Find a shirt with the widest lapels possible. You can make your lapels appear larger by flattening them out and undoing the top two buttons.
Step 2
Wear the widest-leg pants you have, preferably flare-legged pants, if available. Unusual colors, such as white or rust, look very disco.
Step 3
Wear a vest and suit coat over the outfit. Cuff the sleeves of the shirt over the top of the suit coat.
Step 4
Use platform shoes or wear boots. If you have neither, black dress shoes also can work.