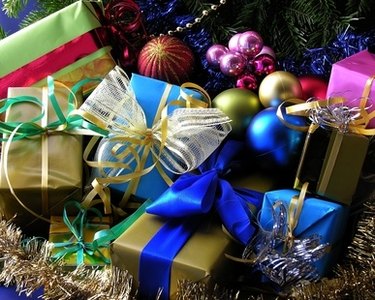 Christmas can be a joyous time of year, but it can also be quite stressful for people who are struggling financially. The costs of holiday gifts, meals, decorations and travel add up, and many people dread having to tell their family that they can't afford it all. Fortunately, charitable organizations can provide help during the Christmas holiday, and if the need arises, you can reach out to them.
Organizations That Provide Christmas Help
The Salvation Army provides assistance programs that help struggling families throughout the year, including Christmas. You have probably seen their volunteers outside around the holidays, ringing their bell and collecting donations. For the holidays, their Angel Tree program provides Christmas gifts to needy children in the form of toys and clothes. Kids can submit holiday wish lists, and local families who have signed up can help by choosing a wish list to fulfill. The Salvation Army also hosts Santa visits for children in hospitals and Christmas parties for children.
Toys for Tots is another reputable charity that reaches out to families during the holidays. It is run by the Marines with the mission of receiving and distributing donated toys to children. They collect new, unwrapped toys and make it easy for families to pick them up. Operation Christmas Child is another, and this organization collects toys, clothing, school supplies and hygiene items. These are then put together into shoeboxes and distributed along with personal notes.
Additional Charities to Call for Help
Two more charities to look into are My Two Front Teeth and the Family Giving Tree. These charities work together to help kids during the holidays. The Family Giving Tree also sponsors a back-to-school drive where they deliver backpacks filled with school supplies to over 32,000 K-12 students before school begins.
Another charity is Angel Tree, which helps children who have a parent in prison. This Christian charity works with these families to bring Christmas and the gospel.
For any charities that you hope to ask for help, try reaching out to your local location or call the contact numbers listed online. Staff or volunteers are typically standing by and are able to assist you in getting the help you need for your family.
How Can I Help This Christmas?
Are you wondering, "How can I help this Christmas?" Charitable organizations benefit from donations from individuals and companies, and whatever is donated is usually tax-deductible. Many offer unique ways to contribute during the Christmas season instead of just sending checks. Make-A-Wish partners with different companies to offer holiday promotions, for example. You can bring a letter to Santa at any Macy's store and they will donate $1 per letter to Make-A-Wish. Other companies, like the Disney Store, will also make holiday season donations when customers make purchases.
For Operation Christmas Child, you can go on its website, pick a child's age group and fill up a shoebox with gifts. A small donation is needed for the shipping costs, and if you donate online, you'll be sent a label for your package. In addition to its other programs, the Salvation Army partners with Walmart every year to sponsor toy drives at participating Walmart stores. Interested shoppers can get a list of suggested gifts, buy them in the store and donate right there on the spot. These gifts are then distributed to needy families in the local community.
The USPS Operation Santa program is a creative way to make a child happy during Christmas. Kids can write letters to Santa through the program, and these are then scanned in and posted online. People can search through the letters, choose a recipient, buy a gift and wrap it. Names and addresses are kept anonymous. Gifts have to be put together and shipped according to USPS guidelines, and you can drop them off at a participating post office.