Things You'll Need
3 to 4 yards fabric

Iron-on or self-stick hook-and-loop fasteners

1/2- or 1-inch wide elastic

Scissors

Iron

Pattern paper

Card stock

Paper bag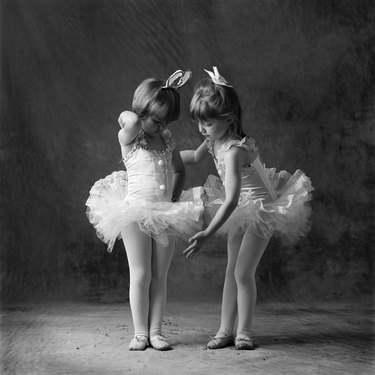 The tutu is the essential finishing piece for both the ballet costume and the fairy costume. Tutus can be very simple to make, usually requiring some basic stitching. However, for those who do not have a sewing machine or don't want to bother with thread and needles, you can make a similar ballet tutu with draping fabric and hook-and-loop fasteners.
Step 1
Measure the dancer's waist. Add 1 to 2 inches to this measurement depending on the length needed for the hook-and-loop piece. Cut the elastic to this final measurement to create the tutu's waistband.
Step 2
Download and print the leaf tutu pattern available at heatherinks.com on white paper or card stock. If printed on white paper, transfer pattern to card stock, cardboard, or a brown paper bag for a stronger pattern template.
Step 3
Fold the tutu material by 3 to 4 inches on the shorter end creating a long fold. Cut out this rectangle and keep the material folded. This creates the "other side" of the leaf from the half-leaf pattern. Now fold 11 to 12 inches of the material down and cut. Pin or trace the leaf-pattern template by placing the long straight line of the template (leaf middle) along the long fold and the short straight line of the template (top of the leaf stem) along the short folded side.
Step 4
Cut the leaf out and unfold. You should be holding two leaves with an attached stem in the middle. Cut one pair of hanging leaves for each inch of the tutu waistband using the yards of material for the tutu leaves.
Step 5
Follow the direction for the iron-on or self-adhesive Velcro to attach a Velcro small strip to the waistband ends. A Velcro strip 1- to 2-inches long should be sufficient. Close the waistband with the Velcro after Velcro application is finished.
Step 6
Tie the tutu leaves around the waistband. Depending on the quality and silkiness of the material, two ties or knots might be required to keep the leaves from unraveling during dancing.
Tip
Add sparkles or gems with fabric glue. Add extra color with fabric paints. Consider pinking shears to cut the leaves to prevent straying and lose strings.
Warning
If leaves falling off at the waist opening is a concern, especially with children's costumes, use a few drops of fabric glue to affix the leaf stems on the waistband at specific locations to eliminate sliding.