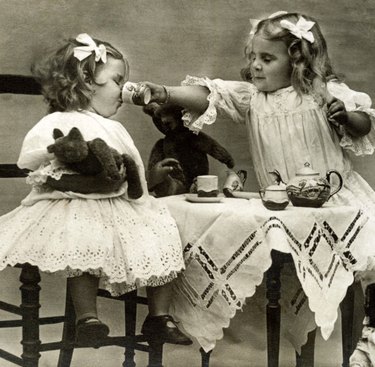 Little girls are often enthralled by the idea of having tea parties. To truly throw a proper tea party, you must do more than simply serve tea. From the setting to decorations, from the attire to the guest list, this tea party will be special beyond the little girl's wildest dreams. Follow these steps to cover the elements you need to consider to throw a fancy tea party that will be a special memory for the little girls.
Step 1
Make enough changes to the dining room or kitchen table that it looks completely different than normal. The novelty of the decor is what makes today so special. Begin with the table. Get out that old fancy tablecloth—or get one at a thrift store. Lace makes all the difference. A fancy center piece and various floral arrangements around the room will do wonders to spice up the setting for such a special event. And don't forget the ceiling. A few streamers or even balloons will top off the decor perfectly. Color-coordinate the flowers with the tea set and other decorations if possible, and don't be afraid to go with the obvious pink or purple.
Step 2
Have all "ladies" in attendance wear fancy gloves and fancy sun hats if possible. Ribbons, flowers and other fancies can spice up any old hat to ready it for tea time. Sundresses are preferable, unless you plan to go all out and get formal, but then you sacrifice comfort. Men should get as formal as possible. Don't forget the little things like jewelry, purses, Japanese fans and feather boas—anything to make it a little more fancy.
Step 3
Invite grandma, dad or another special guest. One of the most important factors in making this more than just an ordinary tea party is the guest list. The presence of the special guest can make all the difference, especially if the child is allowed to host/serve when the festivities begin.
Step 4
Use "madame," "Good Lady" and "Kind Sir." Think British and French aristocracy circa 1800s. Giving guests fancy names can take things to a whole new level: Grandma can be queen for a day and Dad can be the Prince of Ellington. Also, don't forget to keep those pinkies extended. Tea wouldn't be tea if you weren't being so incredibly fancy.
Step 5
Serve tea and crumpets, of course. Even if they are just graham crackers with jelly smeared on them, crumpets are an absolute must. Try having cookies or pastries that are novel to the children and look fancy. It isn't hard to impress a four-year-old when your already wearing gloves, a floppy hat or a necktie.
Tip
A maid or butler to wait on the guests can be great fun and adds a whole new layer of imaginary play to tea time. Kids can play at this for hours, while adults are bound to wear out. Try working the party in shifts to keep fresh adults in the mix. Otherwise you're in for what could be a whole afternoon of girlyness.
Warning
Don't serve real tea—kids and caffeine just don't mix. Try a special juice blend the child's never experienced before.