Handmade purses are simple to make and a great way to always have a purse to match your outfit, regardless of your budget. Unfortunately, many beautiful fabrics lack the durability and stability that purses require. There is a way to add this stability to your handmade purses and stiffen the sides of them so they will last longer and hold their shape during use.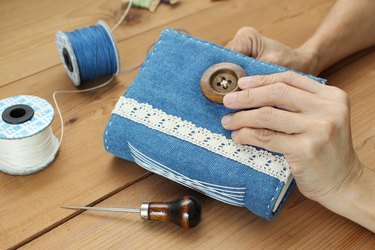 Things You'll Need
Fusible web

Scissors

Iron
Step 1
Cut two pieces of the fusible web one inch smaller than the pattern pieces of the external sides of the purse. For example, if the sides of the purse are 8-by-10-inch rectangles, cut the fusible web into 7-by-9 pieces.
Step 2
Lay the fabric pieces that will become the external sides of the purse right side down on an ironing board. Center the piece of fusible web on the fabric, paper side up, and iron the fusible web to bond it to the fabric. Repeat with the other piece of fusible web and the other pattern piece of the purse. Now the fusible web will be attached to the wrong sides of the outside of the purse.
Step 3
Allow the fabric to cool completely before removing the paper from the fusible web.
Step 4
Finish sewing the purse together. The fusible web now has bonded to the fabric and will make these pieces stiffer, giving the finished purse more stability.
Tip
Fusible web can be found at craft stores and at Wal Mart. Heat'n Bond Ultra Hold Iron-On Adhesive is a good example of a fusible web that will stiffen purses. The reason for cutting the fusible web slightly smaller than the pattern pieces is because if the fusible web covers the entire piece, it will be sewn into the seams. Sewing through fusible web is difficult and will cause the needle to become sticky, and the thread will break often.