Making Roasted Garlic Sauce at home is a great way to dress up pasta, pizza, or spaghetti squash. This tomato based sauce is flavored with bright basil, sweet yellow onion, a pinch of crushed red pepper flakes, and of course, roasted garlic.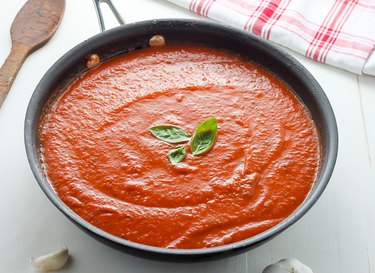 Since the garlic takes around 30 minutes to roast, do that first. If you've never roasted garlic before - don't worry - it's a very simple process that takes only a few minutes of prep.
Things You'll Need
Small oven-safe ramekins or a muffin tin


Aluminum foil

Large saucepan

Blender or food processor


One whole head of garlic


2 Tablespoons plus 2 teaspoons olive oil, divided

1 small yellow onion, diced

1/2 teaspoon crushed red pepper flakes

1 28-ounce can of crushed tomatoes


1 teaspoon salt


1/2 teaspoon ground black pepper

1 teaspoon granulated sugar

2 teaspoons Italian seasoning


1/2 cup fresh basil, thinly sliced

Step 1
Preheat oven to 400 degrees F. Peel and discard any papery outer layers on the garlic bulb, leaving the actual skin on each individual clove intact. Using a sharp knife slice a 1/4 inch off the top of the cloves, or enough to leave each clove tip exposed.
Step 2
Place the garlic bulb, cut side up, in a small ramekin or muffin tin. Drizzle the olive oil over the exposed garlic tips, then cover with aluminum foil. Bake in preheated oven for 30-35 minutes, or until cloves are soft enough to be easily pressed up and out of their skin.
Step 3
While the garlic roasts, prepare the tomato sauce base. Heat remaining 2 tablespoons of olive oil in a large saucepan over medium-heat. Add in the diced yellow onion and crushed red pepper; sauté, stirring occasionally, for 15 minutes, or until the onion is soft and translucent.
Step 4
Add in the crushed tomatoes, salt, pepper, sugar, Italian seasoning, and basil; cook on medium-low until roasted garlic is ready. Add in roasted garlic and cook an additional 5 minutes, then transfer the sauce to a blender or food processor and pulse smooth. Taste to test for seasoning, adding more salt, pepper, or basil as needed.
Step 5