Shredded spaghetti squash is a wonderful base for many recipes, and you can use it to replace pasta, potatoes or rice. Healthy and hearty, roasted spaghetti squash pasta is made with just two ingredients in a few very easy steps.
Things You'll Need
One spaghetti squash, about 2 pounds

1/4 cup water
Step 1
Heat the oven to 400 degrees F. Place the squash on a large cutting board and carefully cut it in half lengthwise. Use a spoon to scoop out the seeds and any gooey/stringy parts; be careful not to dig into the actual flesh of the squash.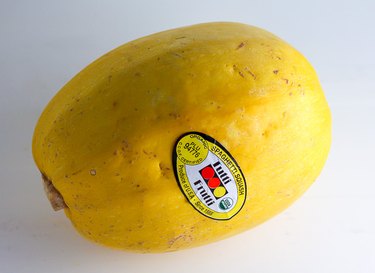 Warning
The shell of a spaghetti squash is very thick, so use a sharp knife when cutting.
Step 2
Place the squash in a large skillet or rimmed baking sheet, pour the water on the bottom of the pan and roast in the oven, uncovered, for 45 minutes.
Step 3
Remove pan from oven and allow the squash to cool in the pan for 15 to 20 minutes, or until they're cool enough to handle with bare hands.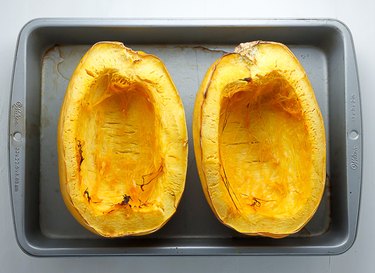 Step 4
Use a fork to scrape out the spaghetti squash, digging in with the tines and then scraping outward. Transfer the spaghetti squash shreds to a serving dish.