Mozzarella-stuffed meatballs are perfect for nights when you're craving homemade comfort food. This straightforward recipe includes fresh herbs, Italian seasoning, garlic and Parmesan cheese -- so many vibrant flavors ensure an incredibly delicious dinner sure to please the whole family.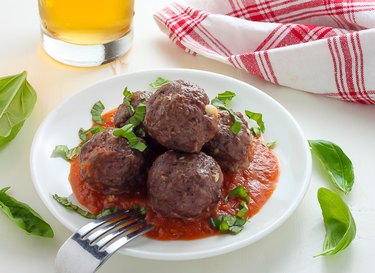 Things You'll Need
1 pound ground beef


3 garlic cloves, minced, divided

1 large egg

1/2 cup freshly grated Parmesan cheese


2 teaspoons Italian seasoning

2 teaspoons fresh parsley, finely chopped

Salt and ground black pepper, to taste

1 cup Italian bread crumbs


1/4 cup lukewarm water

4 ounces mozzarella cheese, cut into bite-sized cubes, frozen for at least 30 minutes (this helps prevent leakage during the baking process)

Step 1
Heat oven to 400 degrees F. Line a large baking sheet with parchment paper and set aside.
Add the ground beef, garlic, egg, Parmesan cheese, Italian seasoning, parsley, salt, pepper and bread crumbs to a large bowl. Use your hands to gently combine the ingredients. Slowly add the water, a few tablespoons at a time, mixing until combined. The meat mixture should be very moist but still hold its shape when rolled into meatballs.
Step 2
Using a measuring spoon, scoop 1 1/2 tablespoons of meat. Roll the meat into a small ball, and then press a piece of cheese in the center. Cover the piece of cheese with another 1 1/2 tablespoons of meat, and then roll into one large ball, being sure to seal in the cheese. Place rolled meatball on prepared baking sheet. Repeat with the remaining meat and cheese.
Step 3
Bake for 20 to 22 minutes, or until golden brown.
Step 4
Transfer the cooked meatballs from the baking sheet to a serving dish and coat in a sauce of your choice. Serve at once.