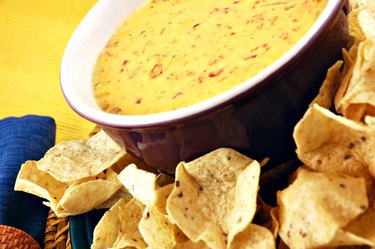 Start to Finish: 20 minutes Servings: Makes around 4 to 4 1/2 cups, or approximately 36 to 40 (2 tablespoon) servings Difficulty Level: Beginner
A delicious dip that can be whipped up in a pinch, Velveeta and Rotel cheese dip paired with chips, crackers or fresh veggies makes a perfect snack for parties and potlucks. Adapted from Ro*Tel's Famous Queso Dip, which contains a can of the brand's Original Diced Tomatoes and Green Chilies and Velveeta cheese, the recipe is a beefed-up version. Add-ins including ground beef, diced jalapenos and ancho chile powder give the original dip more zip.
Ingredients
1 10-ounce can of Ro*Tel Original Diced Tomatoes & Green Chilies, undrained
1 16 ounce package of Velveeta, cut into 1/2-inch cubes
1/2 pound ground beef
1 jalapeno, seeded and finely chopped
2 garlic cloves, minced
1/2 cup onion, finely diced
1 1/2 teaspoons ground cumin
1 teaspoon ground ancho chile powder
1/4 cup to 1/2 cup of light beer (optional)
1 to 2 tablespoons of olive oil or bacon fat (optional)
Directions
Add 1 to 2 tablespoons of olive oil or bacon fat to a skillet, if desired; this helps prevent the meat from sticking to the pan, especially if you're using lean ground beef.
Heat the skillet over medium-high heat. When the oil or fat shimmers with heat, add the ground beef, jalapeno, onion and garlic.
Cook, stirring frequently, for 6 to 8 minutes, or until the meat has completely browned and is no longer pink.
Sprinkle the cumin and ancho chile powder over the beef mixture and stir to combine.
Remove the skillet from heat and strain away any excess grease, if necessary.
Reduce the heat to medium and add the cubed Velveeta cheese and can of Ro*Tel Original Diced Tomatoes and Green Chilies. Cook, stirring frequently, until all the cheese has melted, approximately 5 minutes. If you'd prefer a slightly thinner consistency, add a small amount of light beer to the cheese mixture. Try adding a 1/4 cup or less at a time, until the desired consistency is achieved.
Remove the skillet from the heat and serve.
Variations and Serving Suggestions
Meat swap. Swap chorizo or sausage for ground beef, or leave out the meat entirely or replace it with a can of drained black or pinto beans to make it a vegetarian-friendly dip.
Spice it up. If you like it hot, try adding dried chili flakes, a few dashes of hot sauce, or swap the jalapeno for a hotter pepper like a habanero.
Consistency is key. If you'd like a thinner dip, but you'd rather not use beer, try using milk or heavy cream instead. Either option will help thin your dip with the added bonus of lending creaminess.
Leftovers. Refrigerate any leftover dip in a tightly sealed container and reheat it for use as a baked potato topping, or drizzle it over steamed cauliflower or pasta.
Alternate Cooking Methods
You can melt the cheese while the ground beef cooks. Combine the can of tomatoes and Velveeta cubes in a microwave-safe bowl and microwave on high for 5 minutes, stopping to stir halfway through. Then pour the cheesy mixture into the skillet of cooked ground beef, effectively eliminating 5 minutes of prep time. Cooking times may vary across microwaves.