Things You'll Need
Large saucepan

Sugar

Wooden spoon

Cream of tartar

Candy thermometer

Almond meal

2 egg whites

Powdered sugar

Red, green and black food coloring

Small paintbrush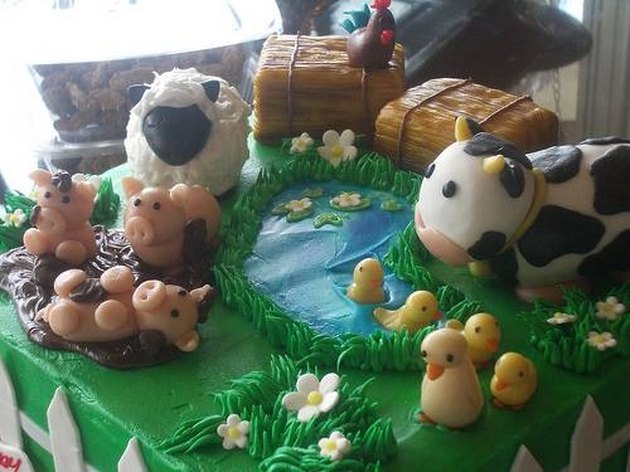 Marzipan is an almond-flavored sugar candy. It is commonly eaten as a holiday treat across Europe and South America. Because of its pliable texture, marzipan is shaped into everything from fruit to animals, and colored with food coloring.
Step 1
Fill your sink, or a pot that is significantly larger than the saucepan, with cold water.
Step 2
Heat 2/3 cup of water and 2 cups of sugar in a saucepan. Stir with a wooden spoon until the sugar dissolves.
Step 3
Add 1/8 tsp. of cream of tartar. Stir, and turn up the heat. When the mixture comes to a boil, turn the heat down, and cover. Let the mixture simmer for two to three minutes.
Step 4
Uncover the saucepan and turn up the heat. Put in the candy thermometer, and when the mixture reaches 240 degrees F, turn off the heat. Move the saucepan to the cold water and let the mixture cool. Stir with the wooden spoon consistently: this makes it cool evenly and produce a smooth texture.
Step 5
Return the saucepan to the stove, and add 2 egg whites and 4 cups of almond meal. Stir consistently, and heat the marzipan for two to three minutes, until it thickens.
Step 6
Dust a hard, smooth surface, such as marble, with powdered sugar, and spread the marzipan onto it. Knead it, like you would a bread dough, until it is smooth and pliable.
Step 7
Pinch off a handful of marzipan and roll it into a ball. Take about a third of the ball and pinch it away slightly, making another round shape attached to the ball. This will be the head of an animal, and the larger ball will be the body.
Step 8
At the bottom of the body, use your fingers to pinch down four legs. Flatten the base of each leg with your index finger to create flat feet.
Step 9
Flatten the front of the head, making a stubby snout. This shape can be used to make a pig, a cow or a cat. For a cow or a cat, pinch up triangular ears at the top of the head. For a cow, leave the head as is. Use food coloring, mixed with water, to paint a pig pink (red food coloring), a cow's spots (red and green food coloring for brown spots) or a cat brown (red and green food coloring, or black food coloring to make brown or black cats).