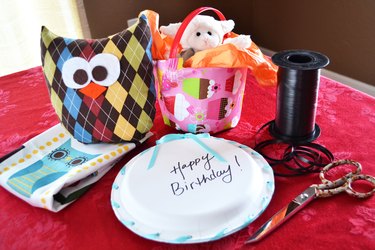 Gift bags make the job of wrapping a plush animal without a box a simple process. Let the wrapping reflect your creativity and thoughtfulness, and have fun while you wrap. Whether you use fancy wrapping paper you've created or found objects, newsprint or wallpaper as wrappings, you may come to enjoy the ritual of wrapping and forgo boxes altogether.
Traditional Wrapping Paper Bundles
Either tissue paper or regular gift-wrapping paper is suitable for two different types of wrapping; use at least a triple layer of paper sheets for tissue paper because it's so thin. Wrap the animal vertically by placing it on the paper and gathering up the ends of the paper at the animal's head, tying them off with ribbon. Or, roll the animal up horizontally and tie off the paper at both ends, creating a firecracker-shaped package.
Fabric Packages
Fabric that matches the season, the gifting occasion or the stuffed animal, makes the wrapping an integral part of the gift. For example, choose a jungle print if you're giving a stuffed frog or alligator or a desert camouflage print for a stuffed camel or rattlesnake. Wrap the animal either vertically or horizontally like the paper wrapping and tie the ends of the bundles with strips cut from the fabric or with ribbon.
Eclectic Wrapping Materials
Household items work on their own or along with wrapping paper to create distinctive containers. Although they're somewhat stiff, foil, wax paper or brown paper bags work like commercial wrapping paper; paint or stencil designs on the paper to make it more festive. If you use tin cans, plastic milk jugs with the tops cut off, or plastic bowls from your kitchen, wrap only the container itself and let the stuffed animal peek over the top, or wrap the entire package in paper or fabric.
Special Treatments
Unique wrappings can be as near as your bedroom, closet or kitchen when you use a large mitten as a wrapping for a small stuffed mouse, a T-shirt for a teddy bear or a pair of paper plates glued or sew together with ribbon for a flat-shaped animal. Use a dish towel to wrap the animal in a decorative Japanese furoshiki shape or use two dish towels sewn together with yarn basting stitches to create a new home and carrying case for the animal.