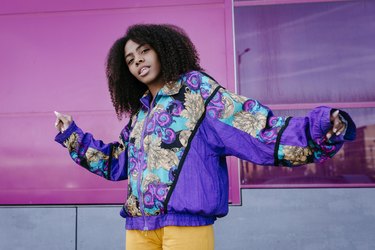 As one of the most critically acclaimed movies of all time, Prince's "Purple Rain" has been hailed as a masterpiece by critics, and people still love hearing his music today. If you are a fan and want a Prince Purple Rain costume to wear this Halloween, your main focus will naturally be Prince's purple jacket. The iconic royal trenchcoat is easily recognizable and is also pretty easy to replicate with the right materials.
Are you wondering how to make a Prince Purple Rain costume? The first step in making this costume is to find a long purple raincoat or trenchcoat. You can look for ones in the exact same shade as Prince's online or at secondhand shops.
If you cannot find the color you need, get the right shape and purchase some purple fabric dye. Be sure to follow the directions on the package of dye as directed and wear clothes you don't mind getting a bit messy.
Allow the coat to dry. Then, you can sew or glue on padded shoulders. In the "Purple Rain" movie, the jacket also had small silver and triangle-shaped metal studs on the upper right side. You can find these or something similar in craft stores. Be sure to pick up some fabric adhesive to attach them. If you don't like the buttons that came with your jacket, feel free to replace them with purple, black or silver ones.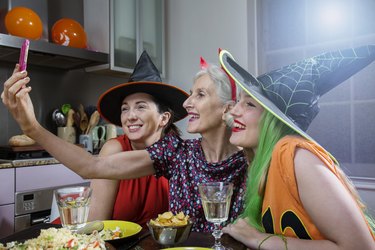 Finishing the Purple Rain Costume
The perfect shirt to go underneath this jacket would be made from silk or satin with cascading ruffles at the throat and cuffs. If you can't find a shirt like this, buy a plain one. It doesn't matter if it has a collar or not, but it should have long sleeves. Buy a length of lace or ruffles in the same shade of white and sew or pin parts of it onto the neckline and cuffs.
The cuffs should extend well beyond the bottom of the sleeves, and the neckline should look very full. You can also substitute a flowy white scarf at the neckline if you can't create the right kind of collar.
Prince also wore tight-fitting black pants that had white buttons running down one side. You can look at a picture from the film (or better still, watch it) to see how they were sewn on and copy this with some white buttons and thread. Add a pair of black boots to complete the look. You can also search for a wig that resembles the iconic movie look, paint on a moustache and see if you can find an old guitar to carry around with you. Prince also wore earrings and other jewelry; you can look for inexpensive costume jewelry for that part of your costume as well.
Other Music Star Costumes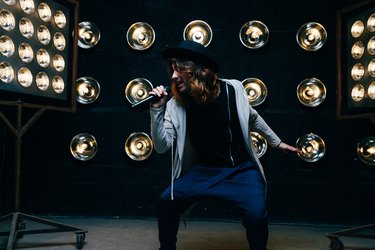 It is easy to dress up like Prince for Halloween, and there are other musicians that lend themselves to costuming as well. Basically, those who can be considered performance musicians are or were most likely to get dressed up in costumes while on stage. Many classic rock artists have appealing costumes, such as Alice Cooper, David Bowie and Janis Joplin.
Do you prefer more recent artists? Beyonce and Lady Gaga are two good choices as well, as is Bruno Mars. The best starting point is to go online and research some of the outfits these stars have worn while performing. Remember that extra details, like sideburns, matching shoes, an instrument, a good wig and the exact shade of purple, can make all the difference.