Things You'll Need
Measuring Tape

Chalk

Pins

Sewing Machine or Needle and Thread

1/4-inch elastic - at least 56 inches

Fabric

Scissors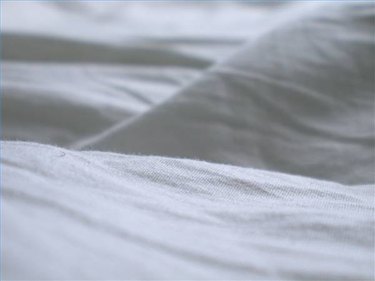 Making your own queen fitted bed sheets can save you a lot of money, especially if you purchase high-quality fabric. Sewing your own fitted sheet will take only 1 to 2 hours, depending on your skill level. After you've made the first one, it will be even easier.
Step 1
Trim fabric to 75 inches wide by 102 inches long.
Step 2
Measure and mark 11 by 11 inches in each corner to create a square in all four corners.
Step 3
Leaving a 1/4-inch seam allowance, cut out the square from each corner.
Step 4
Pin together each of the four corners, right sides facing. The two cuts you made in each corner should be pinned together.
Step 5
Zigzag stitch the raw edges, then turn 1/4 inch and finish seam with a straight stitch.
Step 6
Roll up 1/2 inch two times all the way around your fabric and pin.
Step 7
Measure 10 inches from corner seam on each side and mark. You should have eight marks.
Step 8
Sew bottom hem leaving a 1-inch opening at each of your eight marks.
Step 9
Trim elastic into four 14-inch sections.
Step 10
Feed one section of elastic into one opening, around the corner and out the other opening.
Step 11
Pull the elastic so it is stretched slightly and pin each end in place.
Step 12
Stitch both openings close, including the elastic ends. This will secure the elastic and gather the fabric slightly.
Step 13
Repeat Step 10, Step 11 and Step 12 for the other three corners.
Step 14
Snip away the excess elastic sticking out of your finished seams. There should be about 1 inch on either end.
Tip
Try to find fabric at least 75 inches wide, so you don't have to sew two pieces together to make it wide enough.
Jersey or T-shirt fabric is great for this project.
Warning
Measurements in this article are based on average pillowtop queen mattress size. Mattress sizes vary, so be sure to measure your mattress and adjust your fabric measurements accordingly.