Plain twin fitted sheets are not hard to find, but matching a theme or finding interesting prints can be difficult. Fitted sheets are easy to make with simple straight seams and hemming techniques. Look for fabric that is 60 inches wide for the best results. If wide fabric is not available it may be necessary to sew two lengths of fabric together, leaving a seam down the middle of the sheet.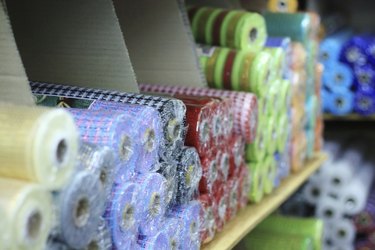 Things You'll Need
Scissors

Pins

3/8-Inch Elastic

Sewing Machine

Iron

Fabric

Measuring Tape

Thread
Step 1
Prewash the fabric and dry it in the dryer. Use the same setting the sheets will be washed on when used. If fitted sheets shrink after being completed they may not fit the bed properly.
Step 2
Measure the mattress for length, width and depth. Cut the fabric for length plus depth and add 4 inches. Measure for width plus depth and add 4 inches. Measuring the mattress will provide the best fit for the sheets.
Step 3
Cut a square into each corner of the sheet that measures 2 inches plus the depth of the mattress. For example, if the mattress has a depth of 5 inches, the square will measure 7 by 7 inches.
Step 4
Take the edges of one square and fold them right sides together to form the corner. Stitch with a 1/4-inch seam. Finish the seam with a serger or a zigzag stitch. Repeat with the remaining three corners.
Step 5
Fold the edges of the sheet over 1/4 of an inch, pin in place and press with the iron. Fold 1/4 of an inch again, pin and press. Sew the seam along the edge of the fold.
Step 6
Cut four 12-inch lengths of elastic. Take one of the pieces of elastic and pin the center of the elastic to one corner seam. Pin each end of the elastic 11 inches from the seam. Stitch with a long zigzag stitch, back stitching at the beginning to secure the seam. Gently stretch the elastic to match the length of the fabric while sewing. This will gather the fabric naturally as the elastic is released.
Tip
Another option is to create a 1/4-inch casing around the entire sheet, leaving a 1-inch opening, rather than hemming the sheet. Draw elastic through the casing, measuring 2 inches smaller than the length and width of the mattress.
If adding a seam is necessary to make the fabric wide enough, make it as small and flat a seam as possible. A large seam will leave a ridge that will be felt through the sheet and could be uncomfortable to sleep on.