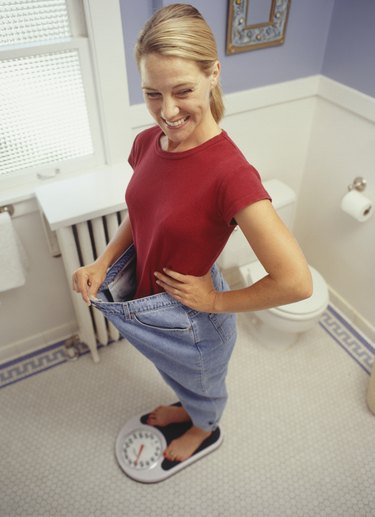 If you are on a diet, there is a good chance that you have a goal in mind. One problem with dieting is that you will go through a series of clothing sizes before you reach your goal, and that can get expensive. With a few quick tips, you can make adjustments to your clothing that will allow you to wear them for longer as you move toward your goal. You can easily alter your jeans to fit you even after dropping 20 lbs.
Things You'll Need
Sewing machine

Needle rated for denim material

Thread
Step 1
Select a pair of jeans that is at least one size bigger than what you currently wear. Wash and dry the jeans.
Step 2
Set up the sewing machine by outfitting it with a needle rated for denim material and matching thread.
Step 3
Hold the right sides of the pants together and pin back the thick seams of the jeans starting at the waist band. Pin back as much material as you need to make the pants fits properly.
Step 4
Sew the parts that you have pinned back next to the original seam. Allow for a 5/8-inch seam. Backstitch starting at the waistband and sew all the way down along the seam.
Step 5
Taper off the threading before you reach the crotch inseam.