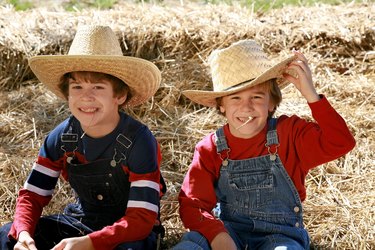 Whether chopping and baling hay or mucking out a milk barn, a farmer's primary wardrobe concern is practicality and comfort: rubber muck boots instead of sneakers, overalls instead of capris. Style plays a small part and is easy to incorporate into your farmer Halloween costume. In the farming culture, plaids trump tropical prints, caps with tractor logos can't go wrong, and traditional -- IE not skinny and not sagging -- jeans are always in vogue. By creating a costume based on this basic farmers' clothing and adding a few farm-themed accessories along with makeup for a sun-bronzed look, you won't be asked the proverbial Halloween question: "What are you?"
Depending on the temperature, select appropriate clothing to ensure that you stay warm if you're going door-to-door with the children. On the other hand, if you're going to an indoor party where it's likely to be toasty warm, choose your farmer outfit carefully so you don't get too hot. Wear either blue jeans or denim overalls, but avoid skinny, embellished or torn jeans. Choose slightly flared legs -- boot style -- if wearing cowboy boots.
Put on a checkered, short-sleeve shirt, a T-shirt or a long-sleeve, plaid flannel shirt. A T-shirt makes a great canvas for an iron-transfer featuring a farmer slogan or image. Create your own iron-on transfer on your computer, making sure that the transfer paper is compatible with your printer. Use a photo editor to create a logo using a photograph or slogan, then print the image onto iron-on transfer paper. After the ink dries, trim about a quarter-inch around the image and it's ready for the traditional iron-on process.
If it's cold enough to need a jacket, consider a windbreaker with a farmer-friendly logo or denim jacket -- fleece-lined for extra coziness. A wool or plaid jacket are suitable alternatives, especially if they're already hanging in your closet.
Muck-Kickin' Farmer Boots
Farmers' footwear ranges from waterproof gardening shoes and worker's boots to knee-high rubber barn boots and leather cowboy boots. If you're out trick-or-treating, a little dried on mud adds to the farmer look, but if you're partying indoors, keep those boots clean out of courtesy to your hosts. Tuck your jeans into barn boots and wear flared or boot-style pants over cowboy boots.
Wear a blue or red bandanna around your neck. Farmers often do -- not for the stylishness, but for practical reasons such as being able to pull the bandanna up over the nose and mouth quickly in a dust storm or when moving hay. Don't wear it like this for Halloween, or you may be confused with an Old West robber. Roll the square of cloth loosely, draping it around your neck and knotting it in the front with the corners hanging down like a tie.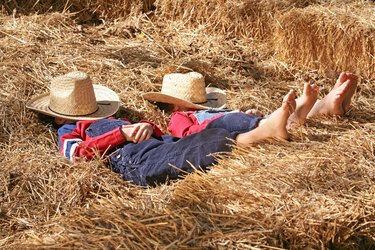 Don a straw cowboy hat or a bill cap. For the male going as a farmer, make like an old-school farmer and tip your hat to women. Females -- tuck a daisy or other country-style blossom into your hat band. If wearing a straw hat for an outdoor Halloween event on a windy day, choose one with a chin cord. If you're spending a chilly Halloween outdoors, wear a warm cap with ear flaps.
If opting for a cap, consider purchasing a hat patch featuring a farmer-friendly logo, image or slogan. Adhere the patch to the cap using fabric glue.
​Farmer's Hat Patch Ideas​
Promote a relevant cause such as "Buy Local" or "Go Organic."
Make people chuckle -- a patch could sport a pile of dung with the words "The only BS allowed on our farm."
Show your farmer pride with a slogan such as "Eat today? Thank a farmer."
Tools of the trade: Many farmers' caps feature images of produce, animals and tractor company logos.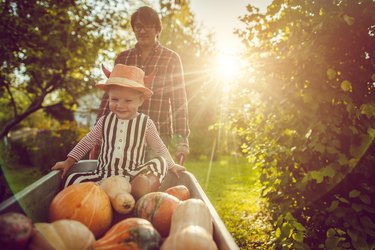 Farmers spend lots of time under the sun. And since they're not plowing fields or harvesting hay in swimsuits, they get a "farmer's tan." Use tanning lotion or bronze blush to create a farmer's tan. If the hairstyle reveals the neck, brush on a little rose blush.
Complete the look with freckles. Makeup artists sometimes add freckles to their models' faces for a sun-kissed look. Apply with a brown eyebrow pencil sightly lighter than your eyebrows. Lightly dot freckles on the bridge of the nose and across the tops of your cheekbones, all the way across to your hairline.