Things You'll Need
White pinafore

Blue blouse

White shoes with laces

Stockings

Navy blue wool cape

Doctor's bag with accessories

White paper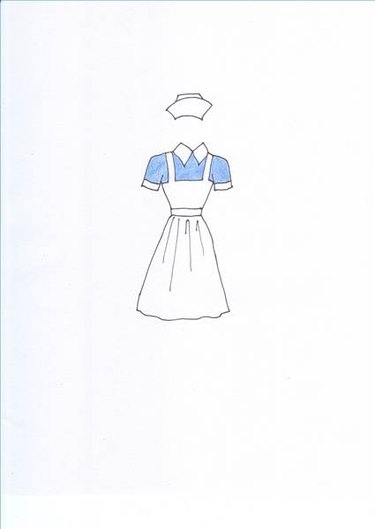 While many modern nurses wear a variety of colors, nurses traditionally wore a prim white uniform with white shoes and a starched white cap. Nurses in the 1900s had a starched, professional look about them. You can sometimes find vintage nurse outfits on display in museums or hospitals. One common uniform was a belted white pinafore over a short-sleeved blue blouse with a white collar. Each nursing school developed its own cap design, so the cap is flexible. Complete the look with a navy blue wool cape and doctor's bag.
Step 1
Stitch together a white pinafore. Give it a square front with shoulder straps, belted waist and full skirt below the knees as shown in the illustration.
Step 2
Buy or make a short-sleeved blue blouse with a white collar. Attach white paper bands around the ends of the sleeves for a touch of authenticity.
Step 3
Make a white nurse's cap. Use stiff cardboard inside the frame of the hat to give the flared front that starched look. Wear your hair pulled back neatly.
Step 4
Make a navy blue wool cape with a stiff collar. Buy the material or use an old blanket.
Step 5
Buy a pair of white shoes with laces. Look for a pair of vintage stockings with the seams up the back of the legs. If they aren't available, use White-Out correction fluid to paint a white line up the back of pantyhose.
Step 6
Find a black bag with a wide bottom that can serve as a doctor's bag. Fill it with accessories, such as a toy stethoscope, thermometer, pill bottle, notepad and pen.
Tip
Other uniform styles were also popular. One had a long straight skirt, belted waist, and three-quarter length sleeves. Look for white shoes in church thrift shops or used clothing stores. Lining the navy blue cape with silk or polyester gives it a finished look.