With promises of glowing skin, boundless energy and perfect detoxification, it's no wonder cleanses have gotten so popular. After all, who doesn't want to undo months or even years of toxin accumulation with a quick and easy-to-follow program? The truth is, though, that you don't need expensive cleanses to detox. Your liver and kidneys work 24/7 to neutralize natural toxins and shuttle them out of your body, while your skin and immune system keep some toxins from accumulating in the first place.
The best way to cleanse is to eat super-nourishing, wholesome foods (like lemons!) that will provide all the nutrients you need for natural detoxification. Eat 'em in combination with other wholesome foods for a healthy 1-day cleanse that'll leave you feeling energized, not deprived.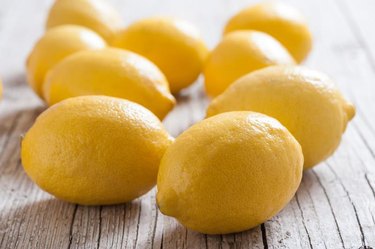 The Detoxifying Power of Lemons
When it comes to cleansing, the water, vitamin C and antioxidants in lemons are a triple threat. Lemons are about 90% water by weight, which makes them perfect for staying hydrated-- a cleansing bonus, since your liver needs water to flush away toxins.
Lemons also come loaded with antioxidants, which cleanse away damaging toxins called free radicals. Left alone, free radicals trigger harmful oxidation and cause genetic mutations that contribute to aging -- not pretty!
Detoxing with lemons also means you'll get tons of vitamin C -- about three-quarters of your daily needs in each lemon! Vitamin C supports liver cleansing, and it builds collagen that keeps your skin smooth, soft and radiant.
Start Your Day With a Cleansing Tea
Detox first thing in the morning with a DIY ginger lemon tea. Unlike dried lemon teas, which can lose their antioxidant power during storage, steeping your hot water in fresh lemon ensures you'll get the most cleansing benefits. A few slices of ginger add zip to your drink – perfect for a pick-me-up without the caffeine – boost your metabolism with a hint of heat and add antioxidants.
Feel free to mix up a few cups of tea to enjoy, hot or cold, throughout the day. Sip the tea, and drink plenty of water throughout the day to stay hydrated and help with detoxification.
Whip Up a Detox Smoothie
An hour or so after waking, blend together a lemony smoothie. This recipe uses both the flesh and peel of the lemon, so you'll get the most antioxidants and lemon flavor! The spinach, vanilla and berries all supply their own cleansing antioxidants, and a single medjool date gives just a hint of sweetness!
Sweet-and-Sour Cleansing Smoothie
Things You'll Need
Flesh and peel from 1 lemon (discard the white, bitter pith)

1 cup unsweetened coconut water

1 cup frozen blueberries

2 to 3 cups fresh spinach (or any other leafy green)

1 medjool date

1 teaspoon powdered vanilla OR 1 teaspoon natural vanilla extract
Step 1
Blend the coconut water, lemon, date and greens on medium speed until combined (it's OK if there are a few chunks at this stage!).
Step 2
Add the blueberries and vanilla and blend on high speed until smooth.
Enjoy a Lemony Lentil Salad for Lunch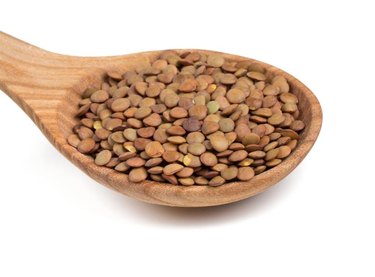 This lunch proves that cleansing doesn't mean you have to be hungry! The generous portion of greens, plus the protein and fiber in lentils keep you feeling satisfied, while the lentils, olive oil and herbs supply antioxidants to cleanse away free radicals. This recipe makes a double batch of lentils – you'll use the other half at dinner.
Herbed Lemon Lentil Salad
Things You'll Need
1 cup green, French or black beluga lentils

Zest from 1 lemon

Juice from 2 lemons

3 tablespoon extra virgin olive oil

1/4 cup Thai basil, chopped using the chiffonade technique

1 sheet nori, crumbled into flakes

3 to 4 cups leafy greens (kale, arugula and watercress are great options)
Step 1
Boil the lentils in unsalted water until soft; 30 to 45 minutes. Drain any excess water, and set the lentils aside to cool for 30 to 60 minutes.
Step 2
In the meantime, use a small food processor – or a whisk – to combine the lemon juice, zest, olive oil and nori flakes until combined.
Step 3
Stir the lemony dressing and chiffonade herbs into your cooled lentils, and use half your lentil mixture to top your greens. If you need more flavor, add an extra squeeze of lemon juice or a few extra nori crumbles.
Detox with a Nourishing Dinner
Finish strong with a cleansing detox bowl that combines lemony lentils, nutritious and vibrant veggies and ancient black rice -- a variety that has more cleansing antioxidant potential than blueberries!
Glowing Detox Cleansing Bowl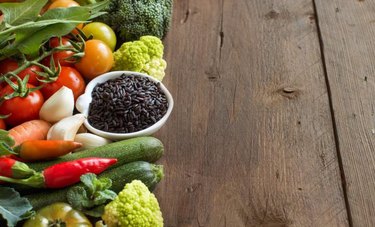 Things You'll Need
1/2 cup Chinese black rice, uncooked

1/2 small sweet potato, cut into 1/2-inch cubes

1/4 cup Chinese cabbage, shredded

1/4 cup Kimchi

1/4 cup carrot, shredded

1/4 cup broccoli florets, chopped into bite-size pieces

1/4 hulled edamame seeds, thawed

Lemon lentils leftover from lunch

Juice from 1 lemon

1 tablespoon sesame oil

Black pepper, to taste
Step 1
Cook the black rice in 1 cup water – this will take roughly 60 minutes.
Step 2
Roast the sweet potato (about 40 minutes) until tender, lightly steam the broccoli (about 5 to 7 minutes), and shred the carrot while you wait for the rice to cook.
Step 3
Lightly saute the lemon lentils and edamame in a pan until warm – approximately 10 minutes – while the rice finishes cooking. Mix the lemon juice, black pepper and sesame oil dressing.
Step 4
Assemble your detox bowl by arranging the toppings over your black rice base, then drizzle with your lemon dressing and enjoy!
Because this 1-day cleanse doesn't leave you deprived of nutrients, you can cleanse whenever you want – whether that's a weekly diet reset, a monthly cleanse to boost your well-being or a quarterly detox to welcome a new season!
Warning
Always consult your doctor before making significant changes to your diet, or attempting any cleanse or detox.